theYchromosome
What do you call a lesbian eskimo?

Klondike.
So this baby seal walks into a club........



A woman walks into a bar and saddles up against a cute guy. She leans in and says "Whisper any three words in my ear and I'll do it."
The man swallows his beer, and gets in close to whisper...."Paint My House"



These next few are borderline so if this gets removed I understand.

What's the first thing a woman does when her boyfriend gets out of jail from a CDV. The dishes if she's smart.


How many blondes does it take to change a lightbulb? Just one, she stands and waits for the world to revolve and screw it in for her.

What's a blonde girls mating call? "I'm So drunk."

Did you hear about the blonde that accidentally scheduled three dates in one night? She managed to squeeze them all in.

What do you call the black, blue, red, and brown thing on the side of the road? A brunette that told one too many blonde jokes.
A cloud of Argon floats into a bar.
The bartender says "Hey! We don't serve nobility here!"
The Argon doesn't react.
YO MOM SOOO NASTY!!
When I asked her what was for dinner, she hopped up on the table, opened her legs, and said ROAST BEEF!!!
savannahbeme
Two pretzels were walking down the street...One was unsalted.
iight uhhhh.... ur so dirty and poor i walked in ur house stepped on a cigarette and then a roach came out saying "ay yo who cut off the heat?"
Any of my good jokes are horribly dirty
Banned
Barack Obama is the Anti Christ.
Lol most are either dirty or racist..
netdisorder
Okay. Get ready for a good one.

So a man walks into a bar and greets the bartender. After some talking the bartender asks what the man does for the living. The man says that he's a "Logic consultant". The bartender asks what that is. The man says, "Let me teach how how to Logic consult".

Man: Do you have a dog, and do you love it?
Bartender: Yes I do, and I love him very much.
Man: So if you have a dog and love it, you would love your kids too, if you had them.
Bartender: Yes I do have kids, and I love them very much!
Man: Now if you have kids, it is likely that you have a wife or female companion.
Bartender: Indeed I have a wife.
Man: Well, if you have a wife, it goes without saying that you aren't gay.

The man then leaves the bar, and another man comes in. The man greets the bartender and after a few minutes of talking the bartender asks what he does for a living. The man replies that he works at a warehouse. The bartender says, you should have seen this guy who came in earlier, he was a "Logic consultant". The man asks, what is that? So the bartender says, let me give you an example.

Bartender: Do you have a dog, and do you love it?
Man: No, I don't have a dog.
Bartender: Well then you're obviously GAY.
Two eggs are baking in a pan. One egg says to the other: "It sure is hot here" Then the other egg jumps out of the pan screaming "It's a talking egg!!"

XD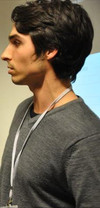 Do you like fishsticks?
Well then you're a gay fish.
I saw this one in the comments for "Somebody that I used to know."

Knock, Knock
Who's there?
Interrupting Gotye.
Interrupting Gotye—
♫You didn't have to cut me off♫

3 men stranded in an island Joke!!!?
A 747 had crashed in the middle of the Atlantic and only 3 men survived.

They found themselves stranded in a remote island and after walking for a few miles they discovered that it was inhabited by cannibals.

The cannibals gathered together and decided to give the men a challenge. If they completed their challenge...then they would live. If not...then they would die.

The 3 men were told to head into woods and bring back as much fruit as their hands could carry. The 3 men did as they were told and in no time the 1st man came back with 10 apples in his arms. He was then told by the head of the clan to drop his pants and bend over. The head of the clan would then shove every single apple in his *** and if the man could make it through without making a single sound then he would live. If not then he would have his head chopped off.

The man pulled down his pants and bent over. 1 apple...2 apples...3 apples...but on the 4th apple he squeaked with pain and then WHACK!!! He got his head cut off.

The 2nd man came back will his arms full of grapes, at least 80 of them. He was told to do the same as the man before him and just as the clan's leader was about to put the last grape in his ***...the man laughed. And WHACK!!! His head was cut off.

Up in heaven the 2nd man came across the 1st man gaping at him disbelieingly. "Dude! What the ****?! You had only one grape left! Why the **** did you laugh?"

The 2nd man shook his head and grinned. "I couldn't help it, man. I really couldn't." He laughed. "When I looked up I saw that the last guy was running back with pineapples in his hands."
entropyking
Did you hear about the restaurant on the moon?
Great food, but no atmosphere.
Did you hear about the plastic surgeon who hung himself?
What do you call a man with no arms and no legs? Matt!
What do you call a woman with one leg? Ilene!
What do you call a dog with no legs? Nothing, 'cause he won't come anyway!