Crunchyroll Community Manager
HEY THERE EVERYONE, THIS IS VICTORIA ~ !!!

Thank you to everyone that participated in the Magi contest ~ ! I will now announce the winners ~ ! Who were selected by our very own Crunchyroll Ambassadors, the IchigogoTwins ~ ! Around here, each ambassador "adopts" a show on Crunchyroll, and these two are the parents who love and care for Magi: The Labyrinth of Magic ~ !


Without further dawdlin' ~ The winners !!!
In third place :
Risocaa
~ !!!
Our 3rd place winner is Risocaa, who brings to us Urraca. Born into slaves, Urraca worked in the stables of her masters, where she met Urim, her beloved horse who she ran away with after being fed up with her masters' cruelness, where she thrived to conquer a dungeon, and that she did! Now accompanied by Mot, who fuses with Urim who acts as her metal vessel, Urraca sets out to overturn the Kou Empire and serve as empress herself!

After learning the truth about the atrocities committed by the Kou Empire not only to the lands they conquer, but even to their own people, Urraca's desire for revenge turned into an act that would spark a revolution within the empire. We can't wait to see what would happen!
While I love Risocaa's art design and how it held accurate to the source; she even adds onto the growing Eastern influence within the Magi universe with her Mongolian style characters! But what stood out to me the most about her character was her touching backstory, which started from a modest flame, ignited by revenge. And this fire grew into a glorious blaze of revolution! Phew, I'm sweating just typing this up, talk about exciting!

In second place ~ !!!




HarleyQuinzels gives us Raja, "a traveling artist struck with wonderlust."

Like Alibaba, she gladly gave up the treasures of the dungeon to travel the world freely with only the clothes on her back and painting supplies. Raja sounds like quite the adventurer, although I can't believe she'd be wandering around with just.. a top like that. She's quite the free-spirit! Her metal vessel is a trident clip. It transforms to a full trident upon the activation of the djinn equip, along with a lightweight armor, better to make her move more agile, she expends less magoi that way as well! The magic element she has control over is lightning. I love the accuracy of art and information she presented with this submission!
AND NOW THE FIRST PLACE WINNER ~ !!!!

THE AMAZING :




OkamiOkama presents us with Shirin, a traveling circus performer.

Magi is all about adventure, and adventuring, so we'd expect more adventurers like her right? (The ending song talks a whole lot about adventuring, hehe). Her background is quite similar to Alibaba's (you'd have to watch the upcoming episodes to learn more), except she decides that she wants to bring happiness to children throughout her travels as a circus performer, along with her cirque troupe composed of animals, acrobats, magicians, and many more.

Her weapons of choice seem to be ring shaped blades called chakrams, which seems to be the metal vessel the djinn resides in. Upon activation of djinn equip, her chakrams turn into heated ring blades (similar to ZakuII's heat hawks I'd say), with her fire ablaze, in her lightweight clothing, making her move agile and makes her use less magoi as armor. Her weapons, both in normal form and upgraded forms, are one of the more creative ones.
All winners above, please PM me ~ !!! ( SailorBee ) with your addresses as soon as possible. You have won a Magi Prize Pack each ~ !!!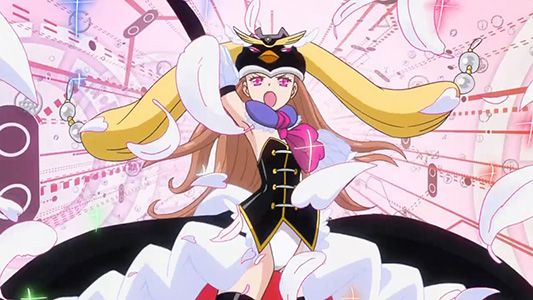 Honorable mentions ~ !!!!!

Favorite Djinn :


JulyMarte
monochrometea3

akihro

Favorite Weapon :


Okei
SharmanderGoesGao

Nishida808

Personal Faves ~ !!!

Gogo:



pewternuetral

Ichiro:


radiata
and my personal favorite ~ !!!!
bekagil
All honorable mentions receive 90 day PREMIUM ACCESS to Crunchyroll's extensive library ~ !!!

Thanks again ~ !!! And keep an eye out for our NEXT great Crunchy-Contest ~
NOW I PUT YOU ALL ON FACEBOOK.
---------------------------------------------------------------------------------
Have I told you lately, that one of my favorite titles in the Fall Lineup this season has been Magi ~ !?
The story follows the travels of a boy named Aladdin around a strange land in which mysterious ruins called Dungeons are said to house priceless treasures. Together with Alibaba, a friend he met during his travels, Aladdin strives to conquer all of the Dungeons and obtain their treasures. Through all the meetings and partings he experiences along the way, Aladdin will also learn of his own fate...
If you haven't started watching the series yet, now's a PERFECT TIME TO START.
But this contest is about more than that ~ ! This is where we need you all to REALLY pull your drawing talent out, and show us your best, brightest, and of course most TRUE TO THE DESIGNS IN MAGI, orginal Djinn-Equipped designs ~ !!!
FIRST - You'll have to draw yourself as your own original Magi character.
Try and stay true to the designs and fashions seen so far in the first 6 episodes of Magi. Episode 7 goes live tomorrow ! So, let's go ahead and include that episode as well.
SECOND - Design and draw what your original character would look like after equipping his/her Djinn ~ !
Here's some inspiration, for those of you who have no seen episode 5, this may be a spoiler, so I'm going to hide it !!
( In other words, you should catch up before entering this contest. )
Spoiler Alert! Click to show or hide
NOW GO CAPTURE DUNGEONS, I MEAN - DRAW.
All entries must be placed in the thread here!
Do not SPOILER them ~ !!! It makes it easier for me to see if they are visible.
We will have 3 big winners ~ !!!
The first place winner will receive MAGI MERCHANDISE.
Second and Third place will receive 3 month long ( 90 DAYS ) premium memberships !!! That's a LONG TIME.
SO LET'S GET TO IT ~ !!!!
THE DEADLINE IS DECEMBER 3RD. EVERYTHING POSTED BEFORE 11:59PM PST ON DEC 3RD COUNTS.
munchthis
hmm, so loin-cloth and nipple rings are ok?
As a Crunchyroll Ambassador parent of this show, I'm going to reserve spot and make do my best in designing my characters! I'll try to be quick with it. ;D
Update:
Here's something to help some of you out.
I designed mine to be affiliated with the Kou Empire, hence the
Eastern
style design.
I'll most likely color these sometime soon.
Character with Djinn Equip and his metal vessel upgrade:
Character's normal form and his shield metal vessel:
Djinn Bashir:
Crunchyroll Community Manager
But Aladdin doesn't transform like Hakuei.......... O.O He's too Magiiii to transform xD (\(* A *)/)
Crunchyroll Community Manager
KikoMarine
wrote
:
But Aladdin doesn't transform like Hakuei.......... O.O He's too Magiiii to transform xD (\(* A *)/)
That's why you have to make your own ~ !!!
Crunchyroll Community Manager
jane_cutieh
wrote
:
when's the deadline?
OOOPS ~
December 3rd,
YESSSSSSSSSS!!!! I was really really REALLY hoping for this ahhhh!!!! <3 Must join!
CURSE MY INABILITY TO DRAW!!!!!!! (T^T) im so sad right now