my bed is huge, a queen sized mattress on a box spring on a frame piled high with pillows, comforters, and stuffed animals. It,like everything else in my room, is blue and white.
Very unkempt. Very hard mattress. 2 pillows (1 hard, which i like the most--and my family hates) and 1, well, regular. 2 blankets-1 thick, 1 made of thin material (could classify as bed sheet, actually). I keep it that way so it's always ready for me to crash on it.
I would describe my bed as comfy, soft, and plush. Whenever I have someone sleep in it, they never want to get out it. lol :p
Queen sized bed, with a matching sized blanket. 2 big pillows and 1 tiny pillow. It's not too soft, and its not too hard, perfect <3
Hard as rock, good for back.
Lots of blankets. Doubles as storage space for clothes, books, boxes, etc. I admit, it's sometimes odd to feel something hard in bed, and find you kicked a DVD.
Slightly unkempt, as in I enjoy the bottom sheet to be on, but nothing else is in particular order. A comforter used to keep warm, and about 14 pillows all piled up in the corner to make for the most comfortable rest ever!
I don't sleep on a bed. I do it Asian-style...on the floor
It isn't a slab of stone in a cave.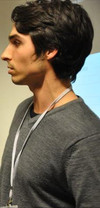 Queen-sized bed (I like to sleep with ample room) with white blankets and navy blue bed covers/spread and pillows. It's a firm mattress because I like it that way, I don't like to "sink" in too much.
Old and outdated. I need a new one.
King size mattress. Black sheets with a black and white comforter.
Always neat and made(unless I'm in it).
Single seize ( for better physical contact )
Brown cover.