Nobody else could know me more than I know myself.
So yes, I know myself more than others know me.
I know better myself than anybody else, that's just a fact. But in some cases there are somethings that you might be missing, but they are't alot of them.
GayAsianBoy
I know myself.

I think I've said this before on a diff thread, I'm introverted... therefore I spend a lot of time with myself (not in a dirty way).
I dont communicate very well through words, or emotions.
So I guess you could say that it is a little hard for people to understand me.
I'm sure I know myself better then anyone else.
bmeadows0923
There are only two super important people in my life and they know me better than I know myself for sure. I think people like that make for the greatest friends and most reliable to ask for advice. IMO, though.
People are good at convincing themselves that they understand other people, and can often make others believe the same. Additionally, those who tend to think they understand someone well tend to be close to that person and influence their behavior or thoughts, leading to a sort of self-fulfilling prophesy.

Also, others may be able to predict my actions better than I could myself; so, in a way, the saying has a point. However, what makes me, "me," is more than just how I act or surface-level reasons for my actions. The experience of one's self is unique to each individual; so everyone has something about themselves that they alone can understand (though most people don't) - i.e., experience. There are a lot of technical (boring to discuss) reasons for why people can't "truly" understand each other...
I know myself better than anyone... people around me belive they know me. But I have know they don't... well I guess my twin sister is an exeption
What about the unconscious side?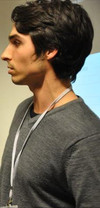 If people truly knew me as much as I know myself, they would only be greeted by despair.
Ichiyamamoto
My introvertedness keeps me relatively closed off from people. From small talk to "emotions" and all that awkward stuff. Yeah, I know myself better than others know me.
saksiss
Nope, it's not possible for someone to know me better than I do myself.
immitis
Half my friend's think I'm a saint, the other half think I'm a devil. So my guess is probably not.
ebrace
-Vega-
wrote
:
I know myself more than anybody. I also know and understand certain people more than they do themselves. That should be one of your goals in life; to know and understand yourself.
I know you Vega more than you know yourself
For instance I bet you didn't realize that you have insuperiority problems and that why you won't even consider another person's logic. You quickly dismiss other people as wrong because you think so highly of yourself. a good example of this is when you read this and think to yourself "nope he's wrong I'm perfect in any way and I don't need advice from any small minded fools like yourself" even though you're the one who is small minded because you were not able to see things from my point of view.
Infantpooch
I think everyone know themselves better then anyone else the problem is accepting who you are. I know myself better then other because I accept the good and the bad parts about myself