bad social habits i have

mumbling
not smiling
trailing off
crossing my arms
looking angry even though im not angry

Rodogg
wrote
:
Swearing, I'm pretty bad about my language. Actually in my house we established a new rule for 2013, a 'swear jar'. $0.25 for any word but the F, $0.50 for the F word, and $1.00 for chain swearing (has to be 3 or more in one sentence.) At the end of 3 months the money will be divided up and put into the gas tanks of our cars.
A better incentive to stop swearing would be to give all the money to the person who swore the least.
Staring at strangers that are attractive for about 5 seconds. XD
Naail Biting.. gross iikk.. but ii cant help it ;(
I chew my nails when I watch TV series, anime and movies.

Aokidanza
Procrastination. Got an application due tomorrow, haven't written the essay(s).

Spacing out. Sometimes I get lost in my own little world while I should be paying attention to other things.

Having low hopes. I always expect the worst outcome so I won't disappoint myself. This often leads to me not even trying because I assume I will fail.
nightvulture1001
Getting too into a manga or an anime and end up reading/watching it until I've caught up to the latest/last chapter/episode no matter what time it is.
Hell two days ago I was bored and decided to pick a random manga to read (ended up being "Molester Man") at around 2 am but luckily there were only 20 chapters so I didn't end up staying up too late. Was a damn good story though.

hmm what else...
- Procrastination which is probably something I'll never be able to fix.
- Going to sleep late (3 am - 6 am) on a daily basis
- When someone agitates me or says something that irks me I have a hard time not showing it on my face.
- I definitely curse way too much... at this point I just use some of them as if they normally fit into sentences.
- When I get pretty drunk and I'm out in the city or Brooklyn with friends I tend to leave the bar we're at and wander aimlessly... just starting to realize this myself after last night, lol.
Lethiam
Bite my nails all the time
can't stop doing it.
sometimes just sleep really late or not till sunrise, i find it easier to fall asleep when it's light outside :s.
staying up to 2:00 in the morning wqatching and reading katekyo hitman reborn
AngelFire5168
Eat fast food nearly everyday (Don't gain a single pound though)
-Just hope it doesn't catch up to me when I'm 30 lol
I smoke, I drink, I try to stop,
I can't because this toxic dancers got me all possessed yeah.

if you got that reference you have some really good taste on music.

well I bit my nails, I don't get enough sleep,I almost don't drink water (or any liquid)
moonhawk81
Getting drawn into pointless online forum discussions. . .
Grinding my teeth unintentionally.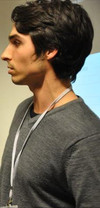 Well, I tend to forget to wipe around the kitchen sink and counter after I'm done washing the dishes. Usually get scolded by my sisters or mom whenever they're over because water droplets around the sink is unsightly I guess?