It's the holidays , gift time! So if you could give any anime character from any anime a gift what would it be? It can be your favorite character or a character you hate, Be creative as for the budget the sky the limit.
Well I think Konima( I think thats how you spell it lol) on Vampire Knight is pretty sexy so if I were to give his sexy ass a gift I would give him a chance to drink my blood lol. Yes! I would and if he turns me away I would tackle him on a stair case!! and possibly rape him. On second thought Zero was a little more appealing and willing to drink peoples blood because he was a different type of vamp so I would just give my self to him willingly in a spacious closet.... first I would want him to slap his hands up against the closet wall really hard with his face facing mine..then degradingly grab my ass while turning me around and slaming my head against the wall while holding his gun to my head....... while this is happening he will pull my little ani skirt up and rip my panties off while brutally bitting my neck as I reach my arms back and rub my hands through his silky moon light hair while blood gushes down my body dripping down my legs...... he will flip me back around and kiss me passionately making me taste my own blood on the tip of my tongue and he will oddly go slow on me while I pretend to resist......then I will have control over the situation and slam him on his back on the closet floor making him want to bite me deeper after he lifts his body in a sitting position to gain consciousness over the whole sutuation which has blown his mind..........and after a good thirty minutes in the closet when its all over and details untold are done with he will bite my ear gently and wisper in my ear Marry Christmas while I look him in the eyes with a WTF look................and only he will exit the closet.



This was all I could think of. If I kept going it would have been long and very detailed...........................
...
I would give every anime character I know Bianchi's (from Reborn!) poison cooking.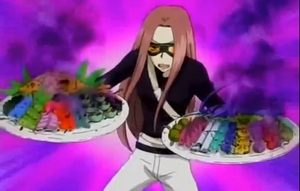 i would give Spike (Cowboy Bebop) a brand new Jericho 941 (his favorite gun), one of his blue leisure suit and yellow shirt pressed, along with me! (letting him do whatever he wants with me
) *sigh*
darkfire9o9
I would give Shiina her first kiss
<- give this guy 1 day with his wife and daughter peacefully
He is the embodiment of all good traits of what a male protagonist should without any faults.
Akabara Strauss if you're wondering for the name.
Sailor Candy Moderator
alexwithcandy
Summer forum cleaning! To keep the forums neat and tidy we only keep 6 months worth of threads since its June 6, 2013 [6/6/13] we will keep only keep posts open from January 6, 2013 [1/6/13]. Please feel free to recreate any thread closed, as long as someone else didn't open another similar one before you.