2 pairs of jeans
3 shirts
2 pairs of pajama pants
2 hoodies (1
red
and 1
blue
)
and
$
250
for christmas
squad22345
wrote
:
Mickeymac92
wrote
:
squad22345
wrote
:
Nothing, once you become my age everything is the opposite you give things to people.
My Grandpa is 90, and he got about 10 gifts this year.
How old are you?
LoL you cant compare a grandpa dude lol. Grandpas and Grandma deserves gifts lol. Silly comparisons.
My point was that you're never really too old for gifts. I know everyone's families are different, but everyone gives eachother something in mine, and I don't see what would be wrong with that.
I got a jacket and a nice at that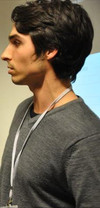 Cologne, a Game of Thrones t-shirt, a pack of socks, and a pack of underwear, among other things.
mhibicke
My son (8 yrs old) spent the holiday with his father, so we just did our gift exchange Tuesday. He got the Old Republic Sith Interceptor Lego set, some graphic novels, a leather motorcycle jacket, mini kusarigama (Tsubaki version), pajamas decorated with skulls, a hat decorated with skulls, and a silver skull tree ornament. I got love, which consists of two kisses and three hugs.

Sailor Candy Moderator
alexwithcandy
Summer forum cleaning! To keep the forums neat and tidy we only keep 6 months worth of threads since its June 10, 2013 [6/10/13] we will keep only keep posts open from January 10, 2013 [1/10/13]. Please feel free to recreate any thread closed, as long as someone else didn't open another similar one before you.