You don't!! And yes that is a solution, not "dealing," with them.
I just ignore them and let them believe what they want too. lol
The pretentiousness and arrogance displayed in this thread is disgusting.
NoBreyner
Agree with them then go do what I was going to do anyway.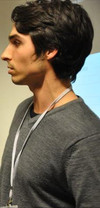 I don't have to deal with dumb people.

Darwinism and natural selection does a decent enough job.
i just act dumber than them...
so they walk away from me on their own...
Nothing, really. Maybe laugh. Maybe stare at them. Staring usually scares them away. I won't have to deal with them again.
No offense to anybody but there is no reason to categorize people as dumb. It's a maturity concept. You yourself are belittling an individual and yes you may not agree with them or consider there intelligence level below yours. I am a waiter and I try to take a different outlook. I am also a semi-hermit so socializing is a little awkward for me but here is the gist of my philosophy. "If you wait long enough you here "god I hate people, especially when they are so picky and keep me busy and blah blah blah." I have met a lot of nice and wonderful people while serving and albeit a bad tip or low tip can down the spirits but sometimes interacting with people is worth something a lot more. "I am all that I have met" -Odysseus.(story with his son Telemachus) I have met way too many nice and interesting people in this world to begin to think that kind of statement to be generalized. Granted we all have our own opinions this one is not the only truth. I can agree on some level with the question. I just feign ignorance and just quickly solve an issue or just make things okay and bounce out.
I don't believe in that everyone is dumb.
If they are they must have some kind of disorder or inability to learn or do a task.
Some might excel in other categories or see things people don't.
As an idiot, I'll do my best (admittedly, it is sometimes difficult and occasionally fails) to be tolerant and use the same amount of respect that I would with anybody else. Just because a person might not have much in intellectual ability, I don't think that they really deserve to be ridiculed for it.
Just try to remember that not everyone is perfect and that even normal people can have moments of huge "stupidity." It's best to just assume that the person in question is not showing characteristic behavior, especially if you never have to see them again. Using others' irritating or annoying behavior as an excuse to get upset or indignant is just as bad, if not worse, than the behavior that supposedly lead you to feel that way (at least in most cases) and is incredibly unattractive.
ignore them and pretend they are not there.
I bet they are good at one thing you're not good at, it's kind of close minded to write off someone as dumb