Ok need help. I'm throwing an anime sweet 16 party for my daoughter. I need ideas for in expensive party supplies and favers. Her fav. anime are Bleach, Black Butler, Orean Host Club, Fruist Basket, Death Note, Vampire Knight and many many more .... :p
But print pictures out and tape them every where?
Its all I can think of that's inexpensive.
Throwing a Bible Black party would be best in my opinion. You might have to shop around for inexpensive party "supplies" though.
Get a cake with some of her fav characters on it
cuddlykitten41
wrote
:
Ok need help. I'm throwing an anime sweet 16 party for my daoughter. I need ideas for in expensive party supplies and favers. Her fav. anime are Bleach, Black Butler, Orean Host Club, Fruist Basket, Death Note, Vampire Knight and many many more .... :p
........
WHY AREN'T YOU MY MOM?????!!!!!!!
T_T I love my mom but... She never understands my love for anime.
Anywho - you could pass out Death Notes as party favors. It'd be kinda scary to use then as invitations though(LOL).
For Fruits Baskets - since they're about the Chinese Zodiac, why don't you give the Chinese zodiac animals as party favors/props?
Outran High School Host Club - LOL get a bunch of sexy guys and create your daughter a Harem!!! XD
Bleach / Black Butler / Vampire Knight: not sure, haven't seen them.
Good luck!!
Vampire Knight: Masquerade? Mix it with Ouran Host club, and you got butler servants catering to every guests' need. And the hosts have to wear Hollow masks. And in the party bags will have a tiny figure of the chinese zodiac, (Furuba style.) And then use the Death note for a raffle contest? Everyone's names will be on it, and then you pick from the list who gets a prize or whatever. I'm not sure about Black Butler, lol, haven't seen that yet.
1. print out anime characters and paste them on sticks to put on cupcakes as toppers

2. have a cosplay party!!!

another thought... a friend of mine had a 18th birthday party last year and she gave out playboy bunny headbands (theme was playboy btw). all the girls liked them. just pink cloth bunny ears, with some glitter-glueish designs, on a black headband. maybe you could do the zodiac sign version of the headbands?
Banned
You can have some corn on the floor.
Go crazy with your idea.
Since, your planning inexpensive party means your aware of your extent.
Might be your just asking as to make sure your idea checks out with the rest.
Well, your idea is better than anyone of us can suggest since your the one doing it.
And it's an ANIME motif pretty sure your daughter's friends knows what should they wear and become.
Just inform them and if you need help better ask from them instead.
I know your nervous but the thought it self of how you want your daughter's Birthday to be special
,
It ROCKS!!!
Thank you for your ideas. I really like the idea of the zodiac head bands. My daughter and I where talking about making them and using them as the party hats.
So today I desided to practice makeing rice Balls with salmi in them. I plan on makeing them for the party. I think they turned out pritty good. I took them to my daughter's swim meet today for her to try. I made alot so she shered them with the people on the team. Her team won! lol I like to think her team won being powered buy rice balls :p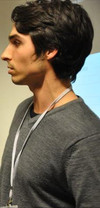 I was going to write cheap beer, tequila, an LMFAO party mix, and a box of condoms...until I clicked on the thread and realized it's supposed to be ideas for a sweet 16 anime-themed party. Nevermind.

Anime isn't exactly my forte, and neither are birthday parties, but I figure at your daughter's age the decorations (balloons, themed plates and cups, ribbons, confetti, etc.) are going to be less important than having fun activities. If it's a fun party, she's going to be proud in front of her friends, if it's not, she'll probably feel more embarrassed.

It would probably be nice to burn a soundtrack of your daughter's favorite anime music to have it play at the party.

Out of all the anime you listed, I've only seen Bleach and Death Note. Maybe if you buy an assortment of Japanese candy and individually wrap a bundle for everyone at the party to take home, it can be something cool like Urahara's Candy Shop (Bleach). For activities it might be fun to have styrofoam, cardboard, paper mache, etc. so every girl can take a turn at making their own "hollow" mask. Maybe have a bunch of clothes, accessories, and props so they can have an anime dress-up fashion show. A little competitiveness is always fun, especially if there are prizes involved.

I like Denmi's Death Note idea. It would probably be time-consuming for you to have to make them all yourself, but at least notebooks are pretty cheap, and the girls would probably think it's really cool. Using them as party invitations would be pretty neat too, just have your daughter hand each of her friend's a notebook at school.

Food can be Japanese-themed. I don't know, there are a ton of possibilities. Hell, you should buy a Kon plushy and give it to her daughter. If she's into soft, cute things and is a big fan of Bleach she'd probably be delighted. And it wouldn't set you back much either.
Go to the realm of the death gods and pick up Ryuk.