Geek who doesn't care of criticisms. (I'm proud of myself I think)
Music lover, gamer, poet and inquisitive. Loves to study many things.
Loves to have fun
Coyotess
Your typical Poor College Student.
Too many hobbies, lazy, and fun to be around.
Can never say no to someone.
sugar,
spice
and
EVerything NICE
.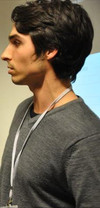 Disney prince on the outside, monster on the inside.
normal guy,who like playing video games
I'm a student that's in pursuit of learning.

An over-thinker, an eccentric, questionable human being.
I'm a creep. I'm a weirdo. What am I doing here? I don't belong here.
I'm an idea catalyst and curious about everything.
Infantpooch
Im kind of a weird person. I am nerdy and yet not nerdy. I love anime, gaming, and searching for more knowledge. I also love going out, getting drunk, and being completely lazy. I have a way of speaking my mind which in alot of way hurt alot of people, I don't really care for whats going on around me unless it involves me. I have a sick obsession with toying with me as if they was my pet. I don't have any very close friends, and I love flirting and having funs with girls)if you get what I mean). I may sound like a ass but hey thats me and probably won't change for no one in the world. I thing of life as have as much fun as you can, do whatever you like to do because in the end you won't get a second chance.
a gamer who gets along better with guys more than with girls. a student who gets by in college with average grades. a cat-lover who also likes other cuddly animals, only less.
Well... I think I'm always a dark shadow in the back of the Angels... I was like a person with MPD to the minor extent. I'm too vindictive, I can't even stop myself from doing such. I feel like, I'm just an existence, but somebody else is holding me... like a puppet. I can think, but I wonder how did I survive in the cruelty of this world... Here I am.. using anime to escape the present that I face. Because watching an anime makes you feel the events without actually having to happen.
tehstud
Only fight for what I love, love only what I respect, respect only what I at least know, burn the rest.
A lazy yet smart person who just wants to sleep all day.