Dad:
Pops from Speed Racer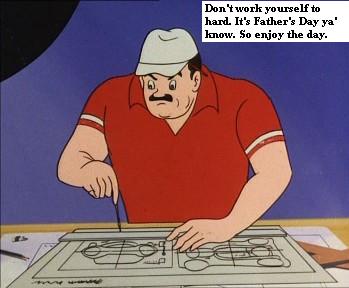 Unquestionably devoted, and a little naive
Mom:
Android 18 from Dragonball Z
She'll whoop up when she needs to
Daughter:
Kirino from...don't make me type it
For attitude and morally questionable story moments.
Son:
Keitaro from Love Hina
Wuss! Nerd!
Uncle:
Onizuka from GTO
The enforcer. Looks after the kids in ways the parents didn't think up.
Dog:
having a hard time finding this, but a very furry and large dog. Slow, gentle, and is great for naps.
Neighbor:
Ramus from Lunar: Silver Star
They're always going to need a fat best friend - that's never going to go out of style.