Only if you're a clown or vampire.
In most cases lip stick don't fit with their face. Shade don't matter.
It also gives the vibe that their lips are poisonous, like paint.
I learned from a young age that eating paint was bad, you know.

Not that I have anything against makeup.
It just doesn't appeal to me when people wear lip stick.

But, do whatever you want. They are your lips, not mine.
papagolfwhiskey
Red seems to be too intense. I went through a phase where I thought it looked pretty but it doesn't go well with my skin tone.

I usually go with softer more pinkish shades. I also play around with multiple layers of liner, stick and gloss because I have thin lips and feel that I more feminine with a bit of 'enhancement' in the area. Red hightlights the thinness where a pink makes them look more full.
Sogno-
it's good for pale skin imo... with blush, makes face stand out a little more. but it's never good to overload it of course, just enough to bring out features.
haha this is probably one of the most eccentric crunchyroll forum posts i've seen :3

i would say red lipstick is really bold...it definitely makes a statement. it makes you feel sophisticated and impassioned. I can't pull it off for everyday wear, because I wouldn't consider it a casual color. But when I do wear it, it feels eyes are drawn to me more easily....
IcedPeachTea
I personally don't wear lipstick, usually only a bit of gloss to make my lips a bit darker, but from what I can tell, it really depends on what you're going for. From what I've seen, it looks the best on pale people, especially pale people with dark hair, generally. It makes their face pop, when otherwise they may be a bit washed out compared to their clothes. It's definitely a bold statement, so you don't want to overdo it, though. Of course, you can also go overboard with just about any color, (especially that new fad to wear sort of orangey lipstick.. :/ ). I am personally pretty pale, but my hair is more of a sandy brown, so I think bright red lipstick looks silly on me, so I wear sort of reddish-pink lip gloss instead. xD
i prefer purple lipsticks tho because im pale
Red lips, simple eyes. Simple licks, snazzy eyes. Wait. I'm talking bs. Who is this girl within me? D:::
as long as the colour fits your undertone and looks good, it's fine
It depends on the girl, her skin tone and the shade of red, and whether or not she knows how to apply make-up in my opinion. I know some people look beautiful in a nice red lip stick, but others just look awkward.
firefox39
I don't like kissing clowns.
courttv
DetectiveAlex
wrote
:
Hey, guys! I feel like this thread is the perfect opportunity to point out that girls kiss me! I'll make sure to do it in a very subtle manner, as to not seem like a pretentious jerk off.
And Joker pulls of the red lipstick better than anyone.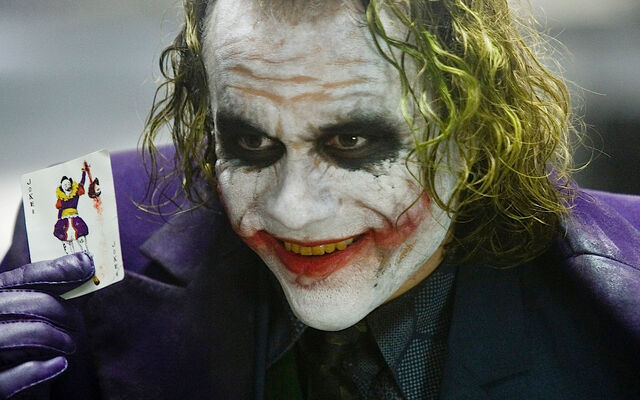 I'm glad I'm not the only one who noticed!
Guys.
It's horrible when you come home from a long night of work thinking you're gonna get lucky with the wife, only to realize she notices the red lip stick on Junior after you've gotten undressed. Lesson here gentlemen, don't let your mistress wear red lipstick.