What is your worst hardship? What hard times you been through, and would you change them. Tell us a story of hardship or hardships that you over came.
Spoiler Alert! Click to show or hide
Banned
Not feeling real while feeling depressed.
Usually its my own inner conflicts and fears. Worrying about general security for the future. But then I just take a deep breath and meditate and realize that I've just talked myself into worrying about these stupid little things and then I talk myself out of worrying about them. Life is good.
killabear
I'm going through it now it's getting my life back on track today was the first half of ged testing i finish tomorrow once i get that i need to get my licence and a car then get the money together to go to college i will have to pay for it out of pocket so i'll be working alot and going to school so it will be a tough 4 years.
Dragon Mod
MakotoKamui
Spoiler Alert! Click to show or hide
.. I got better, at least as much as possible. The scars are fun conversation starters once they're seen, though.
Don't really have anything I consider a hardship, unless over-thinking counts as one.
Oldthrashbar
Visiting crunchyroll everyday and having no choice but to click on these (mostly) stupid threads and respond to them because CR decided to do that layout change a.... year ago that moved the stupid forum links to the top of the page. Gimme back my old layout! Give it back! Give it back! Give it BAAACK!
hm, probably the tumultuous relationship between my dad & i during my teen years..
we're cool now.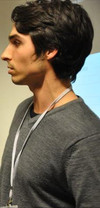 Growing up in a poor family, having to fight really hard to make it through high school and college. Nearly dropped out.

Then graduating and competing against the legions of business major graduates to find a good career to start paying off my student loans.
dealing with bad qualities I find in people I love
I'm guessing that I'll have "bigger" hardships later in life, but currently I feel pretty miserable

1) Perhaps I may not be as experienced as everyone else in relationships, heck I don't even have a bf yet - which is my problem... for the past 4 years I've been SO obsessed with this guy who initially showed interest (we would spend hours at a time on MSN, like 8 hours each day), but now he's into LG hunting and thus doesn't care about me anymore, but during this time, I have made it clear to everybody who has asked me out that I like that guy, so like half the school knows now, and I'm too scared to talk to this guy anymore, cause it's too embarassing. So now all my friends have at least had one boyfriend boy now, and I'm like the only one alone for prom in my group of friends. Which really hurts my ego.

2) I really regret taking IB... like... IT. IS. HELL. First year of it was a breeze, but this year, ALL the assignments, exams, presentations, essays etc are being given to us all at once, and I pretty much get no sleep. I used to think I was pretty smart, but now my marks are dropping, I can't think cause of the lack of sleep and I know it's my fault because I can't help but procrastinate... In my head, I know I will get over this conflict, and I know I'll always finish everything on time, but recently, I've just totally shut down - I used to be so loud and hyper, but now I'm just grumpy... even my friends are afraid to comment. I've even skipped whole days of school to catch up on some rest.
I feel like I have given up my life to complete this diploma. Now I'm not even sure I can get into the college I want.
I've pretty much given up my life for IB, I've dropped all my extra-curricular activities, and I can only go out with my friends once out of every few monthes.

So now I'm pretty much living a nightmare. I can't get over this guy that has no interest in me and I'm not even sure I can get into university.

I know I'm gonna look back at this and think - oh wow, I was a drama queen, but I'm living in the present.. I just want to speed up time...

now? anxiety and paranoia.
FacelessRed
Hmm, during University, my aunt decided I could no longer take refuge at her house. Unfortunately this meant I was homeless, with no money.

A friend of mine managed to hole me up in his place till I could find the means to pay for things. I managed to get a U.S. Based loan to continue my Education, HOWEVER, my parents with their infinite wisdom when it comes to money went flat broke, and demanded me give them money almost half of it (4000 pounds I had to give more or less 6800 dollars) or they'd lose their house. The money I was meant to survive on for the next 2 years of life (rent and food!).

My step father tried to coerce me into dropping out, wasn't gonna fuckin' do that. I was not going back to nothingsville Florida. So I stopped buying food. After uni was over my cousin managed to convince me... (against both of our better judgement) to take refuge with my scummy uncle, while I look for a job.

Which is where the hardship comes in like a freight train. The job market was/is terrible. Basically I was on unemployment pay for which is around 50 pounds a week, 150 of which went to my uncle every month, leaving me with 50 pounds for food and travel for jobs every month. I was hungry, very fucking hungry. I rapidly lost weight and began to find it harder and harder to wake up and get around. Not made any better by my uncle, who is a severe drunk, and compounds it with a daily regimine of heavy weed smoking (which in combination makes him go absolutely schizo) he began to accuse me of hiding his toilet paper, and that he would knife me and beat me up if I don't find a job (which made no sense because I was out looking, so it wasn't for lack of trying) Also he HAS knifed me before in my stomach when I was 5 years old.

At one point after having not eaten for around 5-6 days (having been caught 'stealing' his rice) I decided I may as well kill myself. However in some twisted miracle my uncle randomly found my father (to whom I haven't spoken to in around 10 years) and made him come get me. which in an awkward ,I still hate my father for abandoning me and my mother, sort of way saved my life.

My living situation still isn't that great, the house my father put me in, hasn't been cleaned since I was born, and has a serious mouse infestation, which makes life a bit on the lonely side. But I am pursuing my career, and I am very happy with my life in comparison. I work making movie VFX for you all to see and enjoy (Harry potter, Xmen, skyfall etc). Working in the Art and Entertainment industry makes me happy, and I hope all the work put into it makes you all happy to. I know my story isn't much in comparison to many but that is what my hardship was.
ChinaCat89
My hardships would be all the surgeries I've had, being in and out of the hospital during middle and high school and dealing with the recoveries. Even though I've been there dozens of time I'm still scared to death of the operating room. Even though I went through a lot of pain I wouldn't change it, the surgeries were all to help me have a better quality of life and make my condition more manageable. I'd go into more detail but I don't like thinking about it. One thing I'm grateful for is my parents, without their support back then, getting through those tough times would have been near impossible.