Duffguy
So I've recently started getting into betting on the outcome of sports a lot and I'm doing alright. I was just wondering who else does this and if they have any advice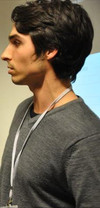 I haven't gotten into betting on the outcome of sports games yet. The over/under and that type of deal.

The closest was probably sinking $100 into my Fantasy Football League, 12 man, IDP, winner takes all.

I don't know what "pros" do, but I would assume the best sports gamblers are the ones who know an incredible deal about the sport, keep up with current information in the league they're betting on. They have to keep track of stats like team defensive rankings, team offensive rankings, matchups, injuries, suspensions, etc.




Knowledge is power. The more you know, the better off you will be. Stats will only get you so far, remember the qualitative as well. Try not to bet on games where personal bias becomes an issue.
I'm a sports gambling fiend, especially when it comes to football. During the NFL regular season I bet 8-12 games per week. I was doing well too until the playoffs rolled around.

I'm not sure if I give any good advice for sports gambling overall as i'm not really sure what is and isn't considered common knowledge. I do know there's no substitute for research, personally I spend about 30-60 minutes per game I bet on going through every possible factor before making a pick. I'd also stay away from prop bets, i'm not sure if there's any research to back it up but I suspect people win a lot less frequently on them than on actual games.
Hey Guys my name is Aiken.I think that sports gambling has never been better or with more on the internet sports betting options than these days.Sports gambling of course starts with NFL football,which is far and away the most well-known way of on the internet sports betting. But it certainly doesn't end there! Nfl and college soccer gambling is another extremely well-known way of sports gambling.Thanks a lot!!



Just join the Europol scandal $$$$.
i do for mma events. i've only got a 62%accuracy rate. But i do best when i don't know the fighters, and just choose randomly or based on history. Once its personal, its over. =_=
One Punch Mod
lorreen
Forum cleaning. Clearing out threads that have been inactive for more than 6 months.
locked and closed