bust04
he just like omg like i cant think of any other way to describe it other than...

he just kicked his ass!!!

for serious if I was beat like that I would be sooooo baffled!!!
bust04
"Blasting the ruins" one turn KO!!!

I've been one turn KOed many times but I've never seen that one!!

Thats insane!!!
Damn I would so duel him.
Lethiam
My opinion is that he seems like a pretty cool guy to chill with, i always loved playing yugioh when i was younger and he seems to know quite a lot about the game and he enjoys playing it i watched another video of someone talking to him and he does seem like quite a gentleman.
Because of him, whenever me and my friends finish each other off we say, three blasting ruins and do the hand thing. He's a legend in my book.
mhibicke
Hey, the guy got nearly two million views without taking off his shirt or getting punched in the balls. You've got to respect that.
Very few people are as passionate about things as he is
about yu gi oh. People can laugh at him all the way but at least this homie is doing
what he does and he does it from the heart.

big ups to him in my opinion.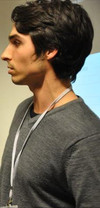 Ladies please, contain your orgasms. I know I can't after watching that rad video.

I honestly think that guy is fucking awesome! Big kudos to him for going about his hobby with such passion and dedication. How many of us can claim that? He's enjoying and living life to his fullest. Most of us just go through the motions half-heartedly.

The dude is playing his heart out, even though I'm sure he's aware it's not popular or "cool" to get so into it. He's exemplifying more bravery by going against "normal" conventions in that one 2 minute video than most of us will show in a week of going to work, going to school, or hanging out at all the "cool" places.


Saw this video long time ago. I wouldn't laugh at him because he's different. I would laugh at him because it'd be fun to play against someone like him. I have never seen anyone that I've played cards with actually act out the whole thing as if it were the actual show lol.
Bearbudah
It's a shame that he can't get to see the support he gets from people :)
Then again he didn't seem to give a crap, but I've been bullied alot my self and I can recognize the stoic exterior.
I feel... I feel... I-I feel....

I FEEL GREAT. I FEEL SO AWESOME RIGHT NOW. LIKE. I CAN GO RUN AROUND THE WORLD, GO KICK SOMEONE'S ASS. WOO. That really got me exhilarated!
Sailor Candy Moderator
alexwithcandy
Summer forum cleaning! To keep the forums neat and tidy we only keep 6 months worth of threads since its June 25, 2013 [6/25/13] we will keep only keep posts open from January 25, 2013 [1/25/13]. Please feel free to recreate any thread closed, as long as someone else didn't open another similar one before you.