kaleidostarr
wrote
:
In no particular order, these are some of the currently popular shoujo series in japan that are being scantalated into english:
Taiyou no Ie / たいようのいえ
TAAMO
Hibi Chouchou / 日々蝶々
MORISHITA Suu
Ao Haru Ride / アオハライド
SAKISAKA Io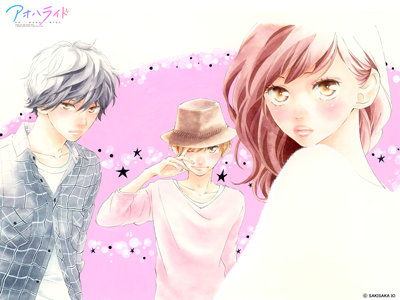 Stardust Wink / スターダスト・ウインク
HARUTA Nana
Heroine Shikkaku / ヒロイン失格
KODA Momoko
Mairunovich / マイルノビッチ
SATO Zakuri
Ookami Shoujo to Kuro Ouji / オオカミ少女と黒王子
HATTA Ayuko
Usotsuki Lily / うそつきリリィ
KOMURA Ayumi
Six Half / シックスハーフ
IKETAMI Rikako
Hirunaka no Ryuusei / ひるなかの流星
YAMAMORI Mika
Awesome List
I love all of 'em
.
I also recommend these too
Spoiler Alert! Click to show or hide
Others: 17 sai kiss to dilemma, Kurenai Ouji, Anatolia Story, Boku no tonari ni ankoku hakaishin ga imasu
.
I could go on forever....
Some are manhwas & most manhwas are good