Goomoonryong
wrote
:
DetectiveAlex
wrote
:
i am an iconoclast!! i hate religion and i am a proud athiest so i wear an upside down cross lol i bet your mad you probably should be because i shit on ur beleif!
HAHHA!!!
Wearing an upside down cross isn't as anti-religious as you seem to think. For over a 1000 years the upside down cross has been the Cross of St. Peter. He requested to be crucified upside down as he did not think he was worthy to die the same way as JC. The upside down cross has since come to be a symbol of the papacy since the popes are St. Peters spiritual sucessors. I'm not religious but I went to Catholic school so I have no problem with you being anti religion but you're not exactly sending the FU to religion you think you are just showing your ignorance. For example heres a pic of the pope on his throne, I don't think hes shitting all over belieif. At least take take time to research the religions you hate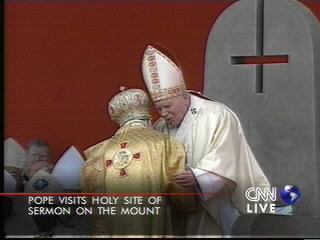 lol idiot. you believe anything you see because you call me ignorant when you are truly the ignorant one. jesus didn;t die for you sins, he died for himself because he knew if he lived he'd have to be stuck here with idiots like yo!!!!!!
the anti-cross is a synbol of anti religion. its simple math.
cross = religion
anti = against
cross + anti = againt religion
idot



MAD??? LMAO. why should anyone be mad about a kid who can't even write properly. a true Atheist does not believe in god, saints or what not and thats it. an atheist does not talk crap about others beliefs. then again you are not an atheist. you are probably just a wanna be. that got into a fad. and is just following another persons beliefs. you are a sheep.

>a true Atheist does not believe in god, saints or what not

>you are following another persons beliefs
ur saying that atheists don't have beliefs yet i m following there beliefs? lol your ignorance is showing. someones mad lol