What's wrong with me, I found some of these jokes waaay too funny.
Your FACE is a great joke.
Haha.
Ha.
Not really original but found it on reddit a few days ago

What do you call a book club that's been stuck on the same book for the last thousand years?
The church.
SerrenStratos
What's the difference between a jew and a canoe?





A canoe tips.


My lame pun, I'm so proud of it.
'This guy? He is titaniarm'
Well, I'm not original, but I love anti-joke chicken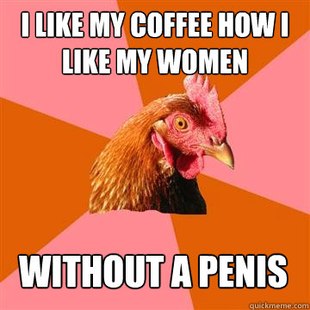 What do you get when you cross a vector and a scalar?
nothing!

Thank you, thank you.
Can I take a Pikachu?
Plus nothing is original anymore...
I think this one will be funny if you're familiar enough with the anime/manga industry. Anyways, here it goes.



Two "J-Manga" subscribers walk into a bar....

They spend 2 years arguing over which drink is the best, and when they're finally ready to order.........

the bar has gone out of business.
I have a lot of original inside jokes. But who doesn't?
I could spend time making a joke. But I don't feel like it.
minatothegreatjiraiya
A Muslim and a Jew walk into a bar.
Check your comedic privilege.