Dragon Mod
MakotoKamui
Ugh, School Days. It has such an innocent picture and I keep trying to block it from my memory, so I end up trying to rewatch it every few years thinking I've never seen it before. The whole "training" sequence was more than enough for me to say "no more" and stop watching. I hear it gets worse later on.

Elfen Lied is worse in the manga (the end of the anime has more hope, I'd say), but it's pretty twisted all around. Deadman Wonderland is also one of the more twisted animes I've seen, but I found both of these far more watchable than School Days.
Deadman Wonderland
Future Diary
School Days

And as an honorable mention- Teekyu. If for no other reason than the rapid-fire freaky humor. You HAVE to pay attention or you'll miss the funniest stuff. I find myself having to rewatch each episode at least twice.
Mirai Nikki
School Days
Elfen Lied
Deadman Wonderland
Higurashi
Insomnist
I think Gunslinger Girl depends on how deeply you think about the premise.
Psychologically it's pretty fucked up.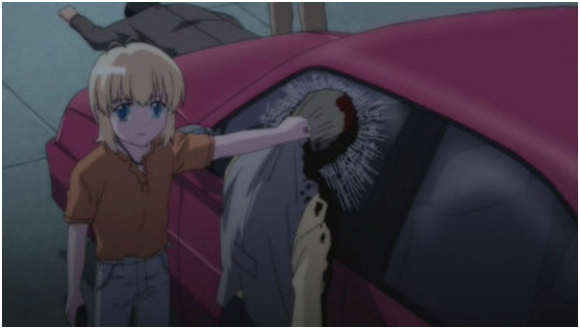 deadman wonderland
Higurashi
Ga Rei Zero.
Pretty merciless that one is.
there's quite a few and i cannot decide, so i'll list some off the top of my head,

aoi bungaku
rainbow (not as colorful as the title implies)
denpa teki na kanojo
higurashi
kite
umineko
Insomnist
Rozen Maiden was pretty psychotic when it wanted to be.
Nyrako
School days was the worst but the Best
anthhd
how is school days twisted? personally i thought it was a romantic 7 way harem with a happy ending, i really enjoyed it , and its ending

ps im rather fucked up
Future diary. Never thought i'd feel bad for a terrorist who blew up a middle school
School Days simply ruined my innocent imagination, before watching it I thought all anime have a good ending well not anymore that was horrible I couldn't imaging worse than that.