I would have to say Zwei from Phantom.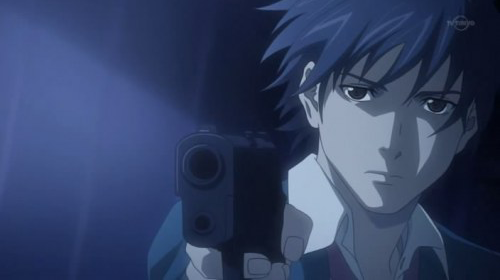 Tomoya Okazaki, He's Tough, (Didn't back down from the Judo or Karate Captains when they were harrassing Tomoyo to join their clubs), But he has a kind heart, and falls for Nagisa, and becomes friends with Kyou & Ryou Fujibayashi, whew, and Help's Kotomi to come out of her self imposed shell, and see that her parents death, was not her fault.

When Tomoya suffers, there's Nagisa to hold him up, and her slightly eccentric family.
Hei from Darker Than Black
I like how polite and friendly Allen Walker is from D. Gray-Man.
But I also love how Soul Evans from Soul Eater is mature and likes to keep things "cool".
Gin from Hotarubi no Mori e is amazing because of his patience and how sweet he is towards little Hotaru.
Shinya Kogami from Psycho-Pass is a kick a** guy who likes to solve crimes and is very helpful to his team mates.
I couldn't narrow it down to one, sorry :'(
Kyo- argh. Already taken... (and Yukimura is actually a girl...)
So for me it is a tie between
Araragi Koyomi
and
Hayate Ayasaki
xxJing
This may come as a surprise but :
Thats right I just absolutely love Kir.
Sakura from Bokusatsu Tenshi Dokuro-chan
and
Tomoki from Sora No Otoshimono
sally55510
theYchromosome
Probably Emiya Kiritsugu or Sakata Gintoki. Kyon is pretty cool too.

For this season, I've gotta say that Hachiman deserves some sort of attention here.
Joseph "the king of bullshit" Joestar
Izaya Orihara and Shizuo Heiwajima



BLACK STAR BECAUSE HES SUCH A BIG GUY!!!!!!