Crunchyroll Community Manager
SailorBee
THIS WEEK, caption images from GARGANTIA ~ !! ♥ One of my favorites of the season for good reason!
WINNER TIME ~

TIME OF WINNERS.

WINNER NO JIKAN.

SHOUUUUJA

Okay, here we go.


flametail9


fruitpunchsamurai2

and our special mention ~ !!!




theendgamelvl3

Your accounts have all been updated with your prize ~ !! Thanks for playing, and look out tomorrow for our next contesssst !!! ♥
----------------------------------------------------------------------------------
Gargantia on the Verdurous Planet is Simulcasted on Sundays 10:00am PDT:
In the distant future, a planet covered almost entirely by oceans, known as Earth, grows in space. Ledo, a boy who has known nothing but fighting all his life, saw the sea there for the first time. On its vast, faintly green waters, men organize huge naval fleets and live modest but active lives. Due to language and cultural barriers, Ledo lives as a lonely foreigner... but he's not alone. Ledo is just beginning his days on this green planet, asking what he must do to survive here, and what he is living for.
CAPTION ONE OF THE TWO IMAGES BELOW:
The rules are simple ...
Choose one, image, caption it, and repost in this thread ~ !
You only have until
May 27th 2013, at 11:59 PM PST
to post.
At that point, we will choose 2 winners ~ ! Both will receive
90-Day Premium Memberships
~ !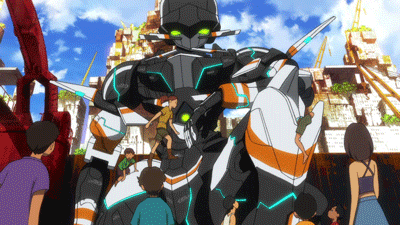 Now go go ~ Shooo ~ Little captioners - show me your best !!! ♥
Haven't seen the latest episode of
Gargantia
?
Wow! I forgot I've been violated while running!
munchthis
on my list of shows to watch.
and some entries
enjoy