Written by Moonhawk81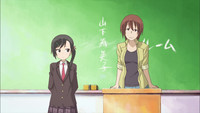 AIURA
centers on three girls transitioning into high school life. The gags are quietly clever, and the characters themselves enter the story with already well-developed personalities. Kanaka Amaya and Saki Iwasawa are friends who meet Ayuko Uehara just days before school begins, only to find that all three of them attend the same school and homeroom. The series follows them exploring their new roles and expectations and the environments in which these develop.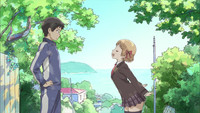 One of the most admirable characteristics of this show is that it is slice-of-life that feels true-to-life.
The situations in which the girls find themselves are alternately mundane to ridiculous, or even some realistic combination of the two, as witnessed by the shoe box dilemma opening episode two. And like actual people, the characters have obvious personality traits but will still act against type. Kanaka is energetic and vaguely oblivious, acting as frequent catalyst to the girls' activities. Saki is quiet, deliberate, and inoffensively sarcastic, the type to whom adults might direct conversation. Ayuko is the new and unknown of the group who, despite her small stature, is exhibiting a tenacious strength of character and a biting wit. Minor characters include teachers, fellow students, the class representative, and Kanaka's younger brother Souta.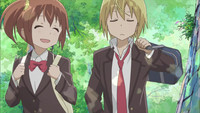 The episodes are exceedingly short, with a four-minute show losing a minute to the opening and at least a half-minute to the closing theme. Nonetheless, the stories--vignettes, almost--are carefully crafted and feel complete. The artwork, while simple, is beautifully detailed.
This is no throw-away filler, but a show with real entertainment value
, the storylines of which could easily be expanded into longer episodes.
AIURA
began as a yonkoma (4-panel) manga written and illustrated by Chama. The anime version debuted on TVTokyo on 10 April, 2013, and is slated for twelve episodes. Liden Films is the studio handling production. And those checking the credits might be interested to find two individuals listed as "River Crab Coordinators." Kanakana would be proud!