Written by edsamac

If rape and poison, dagger and burning,
Have still not embroidered their pleasant designs
On the banal canvas of our pitiable destinies,
It's because our souls, alas, are not bold enough!
~ Charles Baudelaire
from
Les Fleurs du mal
(The Flowers of Evil) Foreword
I would like you stop for a moment and think of the reasons why you enjoy watching anime. Is it for the thrill of adventure and otherworldly designs that simply cannot be conveyed through live action alone? Or perhaps it has more to do with the limitless artistic expression that can only be conveyed through the illustrative nature of anime as a visual medium? Or maybe it is something more down to earth: "it just feels good watching anime"?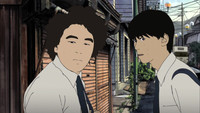 Whatever ideas you have in mind, you might want to set those aside the moment you decide to watch Flowers of Evil.
Opting for photorealistic animations and set in a nondescript suburban town, Flowers of Evil is as bold and retrospective as the late Baudelaire from which the show's title takes its inspiration from.
Takao Kasuga is your typical high school youth dubbed "bookworm" by his peers and has a particular attachment to the book "The Flowers of Evil" – a poem anthology written by Charles Baudelaire. After impulsively "stealing" the gym clothes of his crush and classmate Nanako Saeki after school one day, his life is turned into a living hell by a certain Sawa Nakamura who apparently caught him in the act. Nakamura blackmails Kasuga to perform all sorts of perverted things under the pain of having the truth exposed to his entire class should he refuse.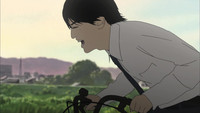 Quite frankly, the show is disgusting
- disgusting in the sense that it gives you an icky sense of discomfort each time you watch it. It's so uncomfortable, you feel just as ashamed as Kasuga for every dare he's forced to do by Nakamura. It borders preposterous considering the characters are anything but attractive, what with the photorealistic illustrations that emphasize all sorts of facial imperfections and blemishes. It's as if director Hiroshi Nagahama intentionally set himself out to spite the viewer.
In another sense, however, it rings true to the spirit of what Baudelaire stood for. In fact, it's no longer a claim -- it's a battle cry. As Baudelaire criticized a "sanitized Paris" in light of its modernization in Les Fleurs du mal, Aku no Hana similarly tears down the idealization built around Anime by posing itself as an anti-thesis to the commercialization of modern anime as a whole.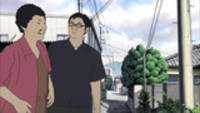 For one, its photorealistic approach and its emphasis on human imperfections (be it in facial features or mannerisms) challenges the stereotypical model of anime illustrations that focus on idealizations of the "cute". Here, the characters actually LOOK Japanese; legs are chubby; moles are living organisms on a person's face; and sidewalks are filthy. Second, the story is remarkably unremarkable. Taking a near-indie depiction of typical life mixed with a twisted flair, the story and its characters seem to breathe a sense of reality through the effective use of atmosphere and cinematography. The result is that even though the situations presented by Nakamura are unbelievable, we're lead to believe it is. There is no need for special effects or transformation sequences to catch your attention here – just engaging, albeit disturbing story telling.
Lastly, the show doesn't make you feel good.
Although there are the occasional gag inserts that somewhat clash with the already established grim nature of the show, they are brought together in such a way that you're left to ponder what you'd do if you were in Kasuga's shoes. When Kasuga is embarrassed, you feel embarrassed as well. When Kasuga shouts out "What the heck is wrong with you, Nakamura!?" you feel like you want to very much do the same. And then there are times when Kasuga acts like a total douche and you have the urge to slap him across the head.
And this is surprising for me because I've never really reacted in such a spirited way to any anime, before. Don't get me wrong, though. The story is anything BUT Oscar-worthy; the animation is amazing, but too detailed to a fault; and I don't feel good watching the show. In the end, however, I can't help but keep on watching!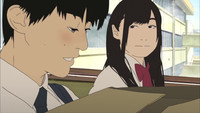 Just like the preposterous maledictions thrown out by Baudelaire through his poems, Flowers of Evil seems to translate the same boldness into the Anime medium and, at least as far as I can see, succeeds in criticizing modern anime as a business catering to the interests of the masses. Either that or I'm simply overanalyzing things. In the end though, Flowers of Evil is nothing but a cult animation on a large scale. It seems to bear with it a nostalgic sense of longing for a bygone era of pre-bubble economy anime with its off-center standing compared to other shows this season. Regardless, it succeeds in being exceptionally different, catering to a daring audience willing to tolerate its discomforting appeal.
Should you decide to give the show your time, you may either come to love it or hate it.
I can't help but think of Flowers of Evil as one of those shows that will have a polarizing effect on its viewers.
Or perhaps I'm mistaken and this is the breath of fresh "fart" that the Anime scene has been longing to get a whiff of? Regardless, this has been and undeniably DIFFERENT watch. If that toots your flute, by all means pick this up right away.