Hellsing: Alucard vs Anderson. Vatican bloodknight (and probably the world's best determinator) versus the millions of souls the greatest horror genre character has consumed in his entire lifetime? What's not to like? Hell, I could write an essay on why that battle is the best EVAR. Or even my college thesis...
Gun X Sword: Pretty much the entire end of the series, where the whole gang bands together to stop The Claw's plan. There's the cold Ray Lundgren, who's after the same goal as Van, with his sharpshooting skills and his very heart-wrenching end. The heartwarming retro team of the El Dorado V, showing that old morphing mechs can still stand with these new space age ones, with their fancy streamlines and aerodynamics and whatnot. And Van, who manages to take 26 episode's worth of biting drama, touching friendships, deep-seeded hate, and an absolute bloodlust for the man who might just save the planet from impending doom, and make it all worthwhile with a single (and very clean) cut.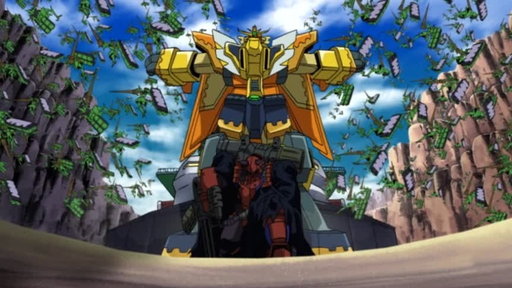 And for the fun of it, who didn't enjoy Shinigami-sama's special attack?