Written by Onymous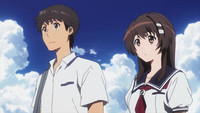 In the idyllic Koga Academy, where nothing of any particular importance occurs, Kazuya Maeda has just been given his father's camera. With a growing sense of wonder, he begins to see everything in a different perspective.
Mostly, the girls
.
Rather than coming across a rhythmic gymnast privately going through her routine and thinking to himself "I'm intruding" he instead snaps a picture while she is unaware of him. When watching the girls softball team practicing in the field he decides that will be a great photo opportunity as soon as the pitcher bends over.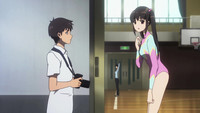 You can't really blame him. The female students seem unnaturally drawn to his camera.
They can't help but strike suggestive poses when he asks a picture and, if he doesn't, then requesting one themselves.
They all treat him as if he was the only boy in school which, well, he almost is. Even the new teacher seems interested.
Photo Kano is everything you would expect from an anime based off a handheld dating game.
It possesses a self contained reality with the sort of unique rationales that will allow the protagonist to innocently pursue your dream girl while simultaneously exploring the depths of perversity by photographing a quirky and oddly complacent cast of female characters.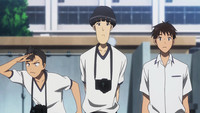 My favorite part is probably the photography club. A group of shameless boys (and one girl?) who seem to have the genre-awareness to understand that the only way they can stand out is by developing outrageous personalities. This savvy has given them the freedom to terrorize the campus, taking pictures of girls in compromising positions which would earn your average student an unceremonious expulsion.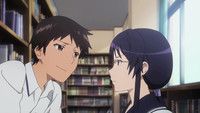 Maeda himself presents an interesting psychological case. Much too shy to even imagine asking his childhood sweetheart, Haruka Niimi, on a date and yet bold enough to take pictures of his female classmates in their swimsuits. He seems like a nice guy, helping his fellow students whenever he can, while simultaneously blackmailing the student council president with pictures he took of her sneaking into school. He comes across as rather naive, in fact the novelty of his cameras strange ability to cause girls to request impromptu photo shoots seems to draw him to photography but, when he licks that pool water off his lips, you have to wonder.
A high school romantic comedy with plenty of fanservice,
Photo Kano will leave you asking why your public school wasn't anything like this.
And if it was, then there's nothing here for you.