Most of mine people have already said. Motoko jumping out the window in Ghost In The Shell, Spike making a gun with his hand and saying "Bang" as his last line in the series in Cowboy Bebop. Goku becoming a Super Saiyan, Shanks passing the straw hat to Luffy etc.
But here are a couple more of mine.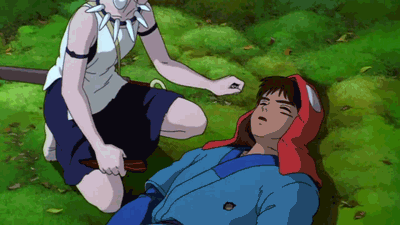 Princess Mononoke. The scene where Ashitaka is injured and San gives him food but he is too weak to eat on his own. Behaving like an animal would and in an act of kindness San takes the food and chews it for him passing it into his mouth when it is easy to swallow. The second we see a tear roll down Asitaka's cheek i get a little choked up. It's a very beautiful and memorable scene from the first Japanese anime film ever to win an award in the west.
And for my next one well...This entire scene in FLCL. It's the dub version unfortunately but they still managed to get the point of the scene across.
http://youtu.be/3DZO1oiiLcE
I couldn't find a still image that sums this scene up. I always tell people who enjoy anime to watch FLCL if they have not already because it more or less sums up everything that is good about anime in one short series. Just prior to this scene Naota returns home to the bakery where his family live and work and is informed Mamimi the ex girlfriend of his older brother came by asking for some old bread that they were giving away. Realising she actually came to see him Naota runs across town to find her.
In the bridge scene he finally finds her and out of breath runs up to find her smoking a cigarette with "Never Knows Best" written on it. This wonderful piece of Engrish symbolises her being lost in the series. Her boyfriend left to go to the USA and found a new girlfriend and she has a bad home life. She constantly gets everything in her life wrong so she doesn't know the best way in life to go. All she does is skip school and hang around with the little brother of the boyfriend that dumped her.