Hello Everyone,
For those of you who have been waiting for more K-drama titles, we've got an announcement for you today!
We are adding more NEW Korean dramas:
You are the Best, Lee Soon Shin
,
Don't Look Back: The Legend of Orpheus
,
The Fugitive of Joseon
and
The Queen of Office
.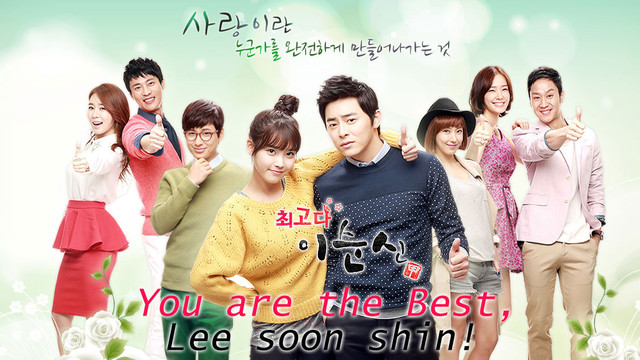 You are the Best, Lee Soon Shin
Because of her father's sudden death, Lee Soon-Shin (IU) and her mother fall in trouble. They both attempt to find happiness, while Lee Soon-Shin falls in love. Meanwhile Shin Joon-Ho (Jo Jung-Suk) is the president of an entertainment management company. He is over confident, arrogant and cold-blooded. By meeting Lee Soon-Shin, he realizes the meaning of true success and also changes.
Don't Look Back: The Legend of Orpheus
A man loses his father due to a woman's family. He loves the woman dearly. The man then is targeted by the woman's family to be killed. Now, the man changes his face and hides his true identity. He begins to take revenge on the woman's family, but he struggles between the desire for revenge and love.
The Fugitive of Joseon
Doctor Choi Won (Lee Dong-Wook), who works for the royal family, becomes involved with the plot to poision King Injong and is now a fugitive. He tries to save his daughter who has an incurable disease. Choi Won has raised his daughter alone since his wife passed away.
The Queen of Office
Contract employee Ms. Kim (Kim Hye Soo) does everything perfect at work that even her bosses are a little afraid of. She is also shrouded in mystery because her colleagues don't know her background. Ms. Kim is the center of attention and she is also charismatic and funny. Meanwhile, Jang Kyu Jik (Oh Ji Ho) is a permanent employee in upper management. He finished his MBA in U.S. before returning to Korea. Two of them always argue about everything.
These titles will be available in the U.S.A.and Canada.
Premium members
can watch them without
ads
and we will upload 4 episodes/week.