Written by mupchubz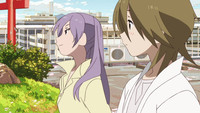 Japanese folklore--an entirely different subculture and universe waiting to be explored, devoured, experienced. It's a world where masked phantoms can walk incognito among humans, where tengu and tanuki can disguise themselves with human alter egos and maneuver through and mingle in society, a vibrant and spiritual realm.
'The Eccentric Family' (Uchoten-kazoku)
is the portrayal of such a coexistence; it depicts the often tumultuous lives of the Shimogamo family members as they struggle to find any semblance of balance between their lives as tanuki (which appear to be a type of raccoon-dog-like species) and humans. From mother to four sons, the Shimogamos literally battle for stability and keep steadfast their familial bonds in the face of tragedy.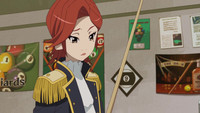 The vacancy of the Shimogamo head hurls the family directly into dire straits. Souichiro, admired and well-loved by neighbors,
was rumored to have been captured and chopped up into hot pot stew by the Friday Fellows,
a mob of humans who dabble in unscrupulous affairs. Consequently, Yaichiro, the eldest son, assumes authority as head of the household, but his inability to maintain composure or make astute decisions during catastrophic circumstances exposes his flaws. He often creates more complications than solutions. Though Yaichiro is undoubtedly fierce and protective of his brethren, the second eldest son, Yajiro, is a lost cause and the youngest, Yashiro, has much still to learn.
Yajiro is unable to contribute much, if at all, to the Shimogamo family. He dwells deeply in a crumpled 'lucky wishing' well as a frog, much to the dismay of his mother.
He is a tanuki who transformed into a frog but unfortunately is incapable of returning to his prior state.
He accepts his ill fate with huge doses of self-loathing and pity. The youngest son, Yashiro, is timid and shy, quick to return to his tanuki form when frightened. He endures taunts and harassment from the Ebisugawa twin brothers, another tanuki clan in the Kyoto area. However, even as the youngest, Yashiro's strong determination to prevail in the throes of abuse will assure he develops into a proper, respectable member of both tanuki and human societies.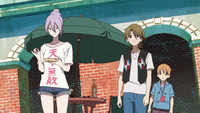 Yasaburo, the third son in the hierarchy of four sons, seems to live rather carefree. He shape-shifts daily into many human forms, male and especially female, and isn't burdened by responsibility like his eldest brother, Yaichiro. Yet he seems to be the most capable out of all the Shimogamo clan, despite claims of being a lackluster tanuki from others. He has a complicated and intricate relation with Benten, a beautiful woman with divine powers, and truly respects his sensei, an elder tengu named Akadama who is quite smitten with Benten to the point of codependency and delirium. There is never a dull moment in Yasaburo's life.
'The Eccentric Family' boasts a slice-of-life drama bewitched with quirky characters, splendid backdrops and art style
(the obnoxious yet bold ears!), and the care to detail in terms of emotive media transitioning and translation from novel format to animation. The interaction between all these characters makes for a remarkable production. Any lurking bystander looking for summer fun should dive in headfirst!