Written by lugiamania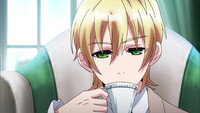 I'll be honest; when I first saw the key art for
Makai Ouji: Devils and Realist
, I totally thought that Sytry was a woman. As it turns out, he is not, and this mistake certainly sets the tone for the type of characters you will be seeing in Makai Ouji: FEMININE MEN. In fact, in the 3 episodes that have been out so far, I don't think I've seen a single woman in the series so far, although judging from the opening sequence, we will be meeting some later on.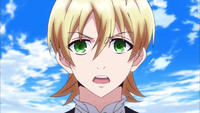 Beautiful men aside, I was expecting Makai Ouji to be a fantasy series with a side of action, but as it turns out, there's a good amount of comedy thrown into the mix as well. The story centers around William Twinning, who comes from one of the highest and most well-bred families in England.
Unfortunately, due to his uncle's investment mishap, he suddenly finds his entire family fortune gone,
and is forced to scour the basement to find anything that he can sell to pay his school tuition. This, of course, sets him up to accidentally summon the demon Dantalion, who informs William that as the Elector, only he can appoint the interim ruler of Hell while its current monarch is in a state of slumber.
Obviously, Dantalion beseeches William to choose him, although flashbacks hint that there is more to his motives than simply wanting to be the interim ruler of hell. What William doesn't realize is that Dantalion is not the only demon after him to sway his choice, and that's when the action comes in, as Dantalion faces off against other demons and those who want to get rid of William because of his connection to the demonic realm.
In order to protect him, Dantalion disguises himself as a transfer student and starts living in the human realm.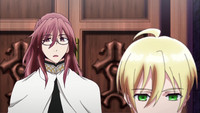 One of the high points of the series is definitely the art; it is colorful, and the character designs certainly don't leave one wanting. Production is by Dogakobo, whose other works include
YuruYuri
,
GJ Club
, and
Myself; Yourself
. I highly enjoyed the opening and ending themes, which are sung by "devils and realist", a group made up of the four main voice actors.
In terms of character development, William's steadfast refusal to believe in the supernatural has made for some hilarious interactions with the demons. Also,
his highborn status has definitely instilled a sense of elitism in him, and the thought of losing his family's wealth and status terrifies him.
Hopefully, we will get to see him develop a deeper sense of character beyond just the titles and statuses. In the meantime, the gaggle of demons that begin to show up at his dorm provides for comic relief, although I get the feeling that we'll be seeing deeper sides of everybody as the story progresses.
If you are looking for fantasy and humor with a good dose of action and a side of thinly-veiled shounen-ai, don't miss
Makai Ouji: Devils and Realist
every Sunday at 10:05am!