Written by eclipsed_oblivion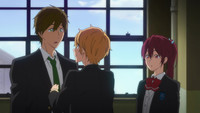 March 6th, 2013: the day the internet exploded. On that day, Kyoto Animation aired a thirty-second commercial that showcased attractive anime boys swimming, and it immediately rent the internet apart. Countless gifs, photo sets, and fanart blew up social media and instantly founded the "swimming anime" fandom. Four months later, "swimming anime" is now officially airing as
Free! - Iwatobi Swim Club
, and it continues to dominate the internet. While it originally grabbed attention for its female-oriented fanservice, which is a natural aspect of a series about competitive swimming, the quirky characters and rounded story are certainly enjoyable for both males and females alike.
Swimming both brings friends together and rips them apart in Free!, which is short for "freestyle." Protagonist Haruka Nanase was a competitive freestyle swimmer as a child, but he bizarrely quit during middle school despite his intense love for water. While visiting his defunct swimming club, he encounters Rin, a past teammate who had left Japan to attend a swimming school abroad and has returned bitter. When Rin challenges Haruka to a race and defeats him, he reignites Haruka's passion for swimming, causing him to establish the Iwatobi Swim Club.
While Free! is an engaging sports anime, it's also a charming story that explores the friendships and aspirations of endearing characters.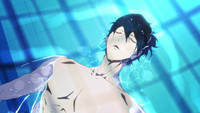 Due to the ample amount of time the male cast spends shirtless, Free! is often misconstrued as little more than fanservice. Swimming, however, inherently involves wearing little clothing, and as such, Free! is simply a solid anime with only natural fanservice. The characters are the driving force of the series, and swimming provides a framework to both bring them together and tear them apart, thus allowing them to develop. Swimming itself is also emphasized, for the characters must train in different swimming styles to prepare for tournaments. Though Haruka quirkily tends to strip to just swimming trunks and jump into any body of water he sees nearby, the bare torsos are mostly a natural, aesthetic result of swimming. Such aestheticism is expected from Kyoto Animation - it is a studio renowned for its beautiful animation, after all - and all other visual elements in Free! are just as stunning.
From the way the water ripples to the abundance of artistic symbolism, Free! is visually appealing in many ways, and the character designs are just at the same standard of excellence.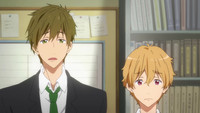 The characters themselves in Free! are also quite captivating, as they each have their own distinctive quirks that range from flipping their hair after swimming to constantly calculating the formula for the perfect dive so they can look beautiful. Each character has a unique style of swimming, and their behavior is also often surprising; it tends to break the stereotypes associated with their looks. While the characters are distinct from each other on the surface, as Free! dives deeper into their true selves, it becomes clear that they share both hidden similarities and strong bonds outside of swimming. As well,
Free!'s remarkable attention to detail subtly fleshes out the friendships between characters even further.
Just tiny moments, such as Haruka wearing unusually baggy clothing, reveal the strength of a character's bond with another, which in this case is his being comfortable enough with another character to borrow clothes, and this makes the relationships even more intricate and charming. This in turn adds to Free!'s strong characterization, which is so heavily connected with the plot itself.
The quirky characters of Free! and their interactions provide many humorous moments, but when their quirks are confronted,
Free! also shows a more serious, but still engrossing side of itself.
As Free!'s story is highly character-driven, when conflicts force characters to reveal darker, more fragile, or more mature sides, their inner complexities make the rifts in their friendships both more depressing and critical to the story. This not only makes the characters more realistic and sympathetic, but makes Free!'s plot more well-rounded; it presents how daily high school life has its fun, but its own sorts of problems as well. As well, as a natural consequence of this darkness mixed in with such quirky comedy, the struggles the characters must bear feel more critical for the viewers and compel them to support the characters as they train during the light-hearted moments, which makes both the comedic and serious aspects of Free!'s plot feel consistently satisfying and forward-moving.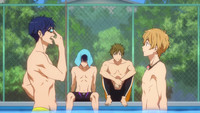 While its fandom continues to rule the internet, Free! - Iwatobi Swim Club itself has more than simply hype to support it. The natural fanservice is just a bonus feature of a solid, character-driven story that has charming characters with comical, stereotype-breaking quirks as its foundation. While it is often quite hilarious, the series also has a serious side that stresses how, even in the lightest moments, the characters are always working toward a goal, which makes every moment feel satisfying. Whether you are interested in a well-rounded, character-driven story or a charming sports series, the boys of the Iwatobi Swim Club are sure to make your viewing experience an excellent one.