EDIT: It happened in FLORIDA. Like what the hell is wrong with that place?
EDIT2: This video was posted the day before the murder.



"Abused" my fine ass!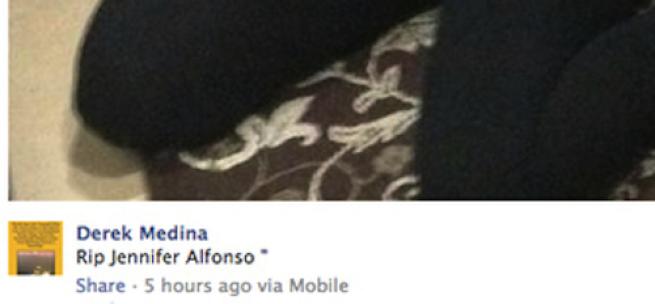 Jennifer Alfonso Killed by Husband, Announced on Facebook
Posted in Crime

Link leads to uncensored photos of the corpse. You have been warned.



Social media is getting a bit too involved in everyday life. After Jennifer Alfonso was shot to death by her husband, the man posted about the murder on his Facebook account.

He made a complete confession — but did try to claim it was self defense

. A few hours later, he was turning himself to police in Miami, Florida.

Scroll down to see 9 pictures of Jennifer Alfonso, including an uncensored look at her after getting shot. The husband, Derek Medina, had the audacity to publish it for the world to see — and we have a copy.

Only 26 years old, the wife had divorced this loser in the past but unfortunately decided to give him another shot. That decision turned out to be unwise. Let us hope her family is able to find peace after this horrific turn of events.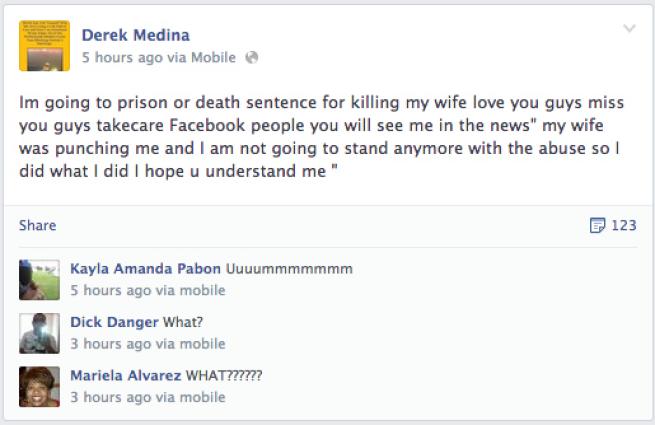 __________________________________

What is wrong with people?


ThePinkRanger


Jfc seriously? What the heck is wrong with people?

KingOfHeroess
Somebody for the love of everything holy NUKE Florida
ThePinkRanger
wrote
:


Jfc seriously? What the heck is wrong with people?


And Florida?


KingOfHeroess
wrote
:
Somebody for the love of everything holy NUKE Florida
Florida State Mottos:

Before this:
Florida where your grandparents and your rights go to die.

After this:
GET OUT OF HERE IF YOU CAN READ

4Corvus
To be fair, it'd be nice if every murderer made full confessions on social media websites. I mean obviously it'd be better if they didn't murder people at all, but if they do, then by all means please do confess on Facebook or whatever.
That's really sad, the human mind is very strange and frightening. Well, rest in peace to that lady, I send my condolences to her family.
I don't think I'll go to Florida either when I get the chance to travel, too much is happening there that alarms me. =T
"take care Facebook people" lmfao
TheAZ126
My friends and I had previously planned to take a trip to Disney World with our families... Now we're going to Disneyland in California. Florida has just been too crazy lately. Maybe cutting Florida off from everything else wouldn't be such a bad idea...
all i can say is wtf... crazy stuff like that probably happens everyday so not as surprising as this other story im about to tell vaguely.. in new mexico once this guy's wife was pregnant and her water broke but the husband wouldn't drive his wife to the hospital until she made him a bowl of spaghetti. She begged in tears for him to take her to the hospital but he wouldn't budge so she made the bowl of spaghetti, he at it, and then he took her to the hospital...that is more wtf in my opinion... /:
I never wanted to move here (though it was a time when I was not aware of the crazies), but I do plan to leave in a couple years.
mhibicke
Since he tried to play this like he was an abused spouse, I considered what my response would have been if he were the wife, and not the husband. I still found it lacking credibility. While there is no evidence that she wasn't hitting him, even if she was physically abusive he had no need to shoot her. He's bigger and stronger than she was, and should have had no problem fending her off.

And really, taking a picture and posting it with a confession on Facebook? He sure is proud of himself. It's like a big, public trophy.
You commit a crime and post it on Facebook. huh.
Well first off you're doing it wrong, but regardless people do stupid action everyday we can't prevent it most of the time.