Written by Baalthus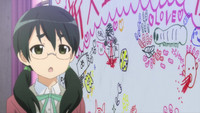 There may have been a time when adorable young girls in a military setting would have been considered laughable, but that certainly hasn't been the case over the past year. With anime/manga series like Upotte!! and Girls und Panzer gaining massive popularity and momentum in Japan, it's no surprise that
Stella Women's Academy, High School Division Class C3
, otherwise known simply as C3-Bu, has been capturing audiences of a wide variety since it began airing in early July.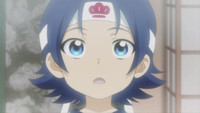 Yura Yamato is your average (and ridiculously cute) schoolgirl. Fresh out of middle school, she desperately wants change. Her dorm-mate is Sonora Kashima, voiced by the instantly-recognizable Miyuki Sawashiro (Suruga Kanbaru, for the Monogatari fans). After being convinced by Sonora to try out a survival game with the C3-Bu using airsoft guns in the nearby woods, Yura finds herself in a world she'd never known.
Maybe this could be the change she so desired after all?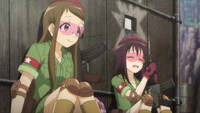 With incredible character designs rendered by Manami Umeshita and music by Kotaro Nakagawa (Code Geass,
Gosick
), this Gainax-produced anime pays extraordinarily close attention to the details in both art and animation, making C3-Bu one of the most highly-anticipated series of the Summer.
Whether you're in it for the
utterly squeal-inducing cute factor, the fast-paced and unusually realistic survival game shootout scenes,
or the show's Zen-like approach to firing weapons and combat in general, this is one anime you should be keeping in your sights.