The Japanese Government is, at the moment, trying to lodge complaints to the French Government over some cartoons published by the French Weekly Magazine 'Le Canard Enchaine' on the subject of the nomination of Tokyo to host the 2020 olympics, saying that it is offensive and hurtful to the victims of the Fukushima disater.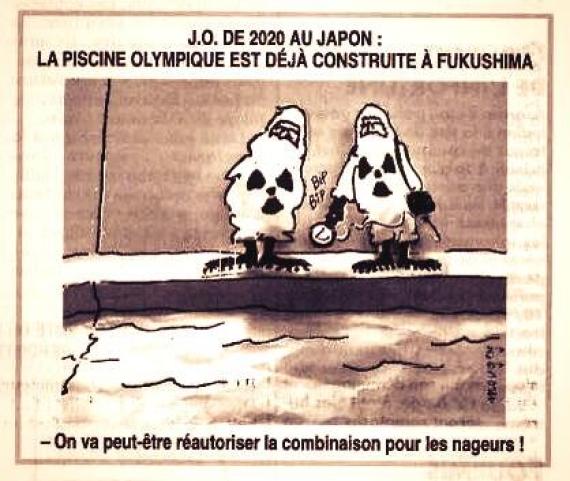 Frankly, I can't see how they are any more hurtful or offensive to the victims of the disater than the Japanese Government's wholly inept handling of the situation, while claiming that the affair is 'completely under control'. It is a bit crass, true, implying that the decision to host the Olympics in Japan is only a result of pity-votes, but I don't see how it is any less crass or offensive than having their officials continue to pay respect to War Criminals, having no less of a government official than the Deputy Prime Minister publically saying that the Japanese government should 'learn from the Nazis' with respect to changing its constitution (something he has backtracked on but has yet to apologise for), and having some of the most blatantly racist immigration laws on this planet. And even if one agrees with the Japanese government's position, how is the French government supposed to deal with it? Send in the
Milice
to break every printing press, type writer, and gaol every writer and cartoonist therein?