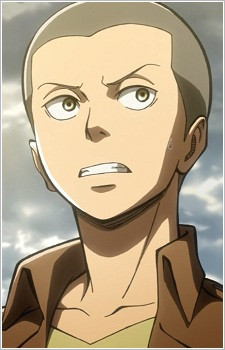 Connie Springer is the Krillin of Attack on Titan.
He's like, super awesome at first. But you just KNOW that it's all a build up for Connie's eventual Death.
It'll go like this
Mikasa - "You guys keep running! I'm the only one who can stop it[The Armored Titan]!"
Connie - "No, they need you Mikasa, you're the only one who can help'em escape! I'll hold'em off, you guys go on without me!"
Everybody else - "Connie noooooo!"
Connie - "(in his head)
I'm not going to be a burden this time, I'll save them like they saved me all those times!"
Connie dies, Eren cries, inka binka bonky.
That's how it's going to play out, I JUST FUCKING KNOW IT.
And that's how Sasha snaps.
Edit; and yeah, Connie will be the first named groupie to die, and might perhaps be the only groupie to die before the finale kills of Mikasa so Eren and Armin can be together, sexually.