There are other posts out there similar to this, but I think it needs to be said again.
CrunchyRoll needs to increase their network throughput and server capacity to prevent excessive lagging and dropped videos during peek times
.
I have been experiencing video stuttering, and complete stoppages, between the hours of 5pm and 1am PST. Here are my Computer specs and network test results.
OS:
Windows 7 Ultimate 64-bit
Hardware:
Intel i7 2600k
ASUS P8Z77-V PRO
8gb RAM
Nvidia GTx 660
500gb HDD
600gb HDD
1TB HDD
40gb SSD
800w PS
For my network devices, I am using a CAT-5 Ethernet cable that is connected to the standard Comcast wireless router. I do not have any unauthorized devices on my network either.
Testmy.net:
Standard test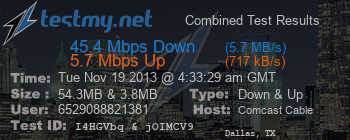 200MB download test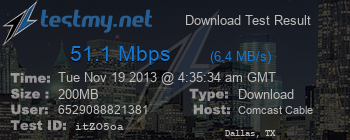 Speedtest.net:
Seattle Server (Closest to me)
LA Server
New York Server
I did multiple of these tests between 8:30pm and 8:45pm tonight as I have been experiencing the stuttering and stopped video problems. These tests were also performed independent of each other with no other applications running.
I was able to watch videos from 3pm to 5pm with no problems, so it isn't a problems with my computer. I can also watch 1440p/1080p videos from multiple sites simultaneously as of making this post, so it is also not a problem with my network either.
This leads me to the conclusion, along with the large number of topics that I can find via the search feature, that the problem lies entirely with CruchyRoll and either their servers or their bandwidth limitations. This should be addressed as this problem makes this site unusable for a decent portion of time.
Here is to hoping that there will be a decent response on this issue.