lord2cole
wrote
:
I am possibly going to an anime convention with my girlfriend in April. She's going as Tamaki and I want to be Undertaker from Black Butler. (I know it doesn't match but I don't really care
) I am terrible at making my own
anything
and I'm hoping to find an affordable (unemployed highschooler here) pre-made costume. So, does anyone know where I can hope to find one?
Additional Information: I don't know if this would help you help me, but I'm looking for something that would actually fit me, so I'm gonna say anyways. I'm about 5 foot 8 inches and what I believe is moderately slim for a dude at the start of highschool. Thanks a bunch for any help
Hmmm.. just to be sure, it's this guy, right?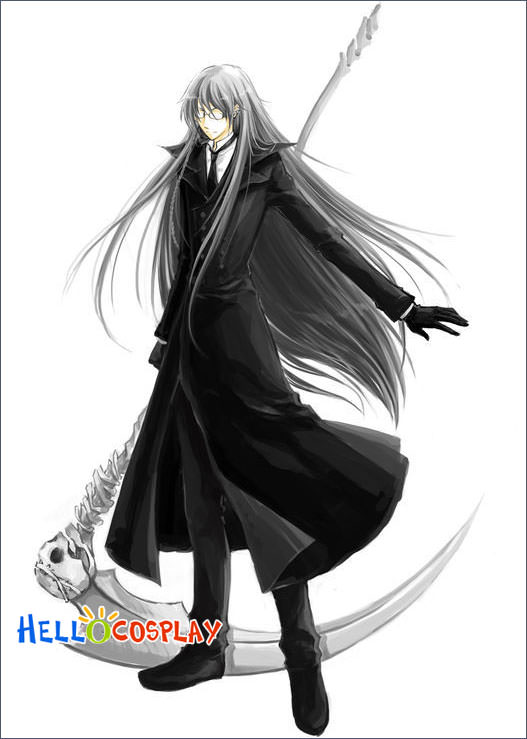 Pre-made costumes, even on the cheap side, look like they're about $100-200, so that's probably not going to work. You might try the
cosplay.com
forums, or their
marketplace
for pre-owned ones. That'd have the extra benefit of knowing it fit the seller, so it'd give you a better idea of how it'll look & fit on you.
Otherwise, going for a piecemeal approach could be fairly inexpensive. For the boots, lots of discount Halloween stores sell pirate boots or tall "leather" boots which could do the trick, and lots of them have wigs that might fit the bill here, too. The gloves can be done with cotton band gloves (if you need a pair, drop me a PM - I buy them in bulk). Pants, shirt, and tie can be found at a Goodwill, probably, and maybe even the coat if you're lucky.
I know you said you were terrible at building things, but.. if you're thinking about building the scythe, a PVC tube from a local hardware store (look in the plumbing area) is a couple of dollars, and you can probably use foamboard to cut out the blade shape. For the swirly parts, I suggest craft foam from a craft store. It's cheap, lightweight, and if it bends out of shape, you can set it back. Really, cons can be hot, so personally I'd say go for the scythe and leave off the coat - that'll also help keep the price down.
Hope something in there helps!