Sacae89
Spoiler Alert! Click to show or hide
I'm sorry, what anime is this?
aidenraine
wrote
:
Spoiler Alert! Click to show or hide
dammit! curse me for being born with the wrong body parts!
Not all hot girls are lesbians though
saksiss
People explaining their powers to their enemies in the midst of a battle, especially the battles to the death.
Stonewolfe
bathroom64
wrote
:
What is with all the blue stripped ones anyways? Is it some sort of trope already? I wanna live in a world where all panties are treated as equals and we could all live together in harmony! Don't judge panties by the color or pattern, but by the content....of its character....so to speak.
What don't like shimapan?
As for shimapan being a trope... well I guess it could be considered one. Hatsune Miku above there definitely helped make it popular. But it was already around long before, the way it seemed to me was shimapan was just kind of your stock/bulk underwear you picked up for like 5 bucks at the store, given how many anime girls had at least.
Kikusui10
Accidently touching a girl's boobs and then getting slapped for it. This usually makes me unable to take the anime serious and most likely i will drop it.
The Wise Wizard
TheAncientOne
wolfsaiga
crazy strong guy still wimpers like he is weak (kenichi)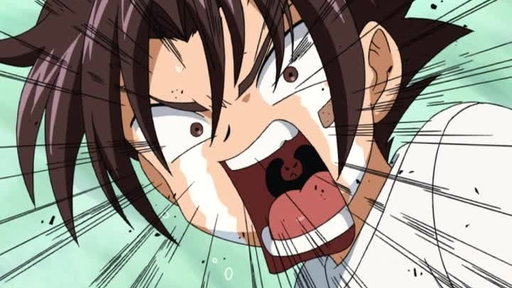 and when someone overdose an attack, instant death by accident
I could list a million different cliches so I'll just give two: If a girl walks in on a guy and either one of them is naked, the guy is, by default, the creepy pervert who isn't being careful enough, and any attempt to reason with her, even when their is solid proof in favour of his innocence, is just solidifying how he was in the wrong and deserved to be beaten to a pulp. God I hate moments like that.

Second one is that, regardless of how powerful a character is, so long as an attack is thrown at them with comedic intent, it can send them flying through a wall and leave a massive mark on their face and blood flowing from their nose. Any demonstration of strength they've shown up until that point becomes completely invalid, because the punch of an angry character is the strongest thing in an anime so long as it is thrown with the intention of being 'for teh lulz'. There's some advice for the villains. Set up a funny scenario beforehand, then throw a punch to add to the humour, and it will nullify every ounce of power the good guy has.
oORatyOo
100% painfully oblivious/clueless to girls main characters that all girls fall head over heels for.
The villain feels the need to explain to the hero why s/he is evil and it turns out to be a pathetic sob story.
Heroes that will not kill the villain when s/he slaughtered thousands of lives.
Those people who rather save EVERY SINGE PERSON even though it's not possible whether hero or not.
Squeaky and loud mouth anime characters.
Lykradonai
Instead of listing, I'll combine it into a story! In this case, a harem.

1. The Main Character (MC) is woken up by his imouto because he's late for school.
2. MC runs out of the house with bread in his mouth and bumps into a girl on a corner.
3. She falls over showing him her shimapan.
4. She covers herself, calls him a pervert, and smacks him. It makes an echoing sound and the camera pans to the sky.
5. He gets to school, sitting in that same seat (Right hand side, next to window, second to back) and his best friend, who is the comic relief character of the show sits right beside him, and his childhood friend sits behind him.
6. "Today, class, I'd like to welcome our new transfer student."
7. *mysterious pan of the girl he bumped into, as it is accompanied by those "ohh" noises people in anime make, while he best friend says how hot she is*
8. She sees the MC and smacks him again.
9. She leans forward and scolds him, and her inhumanly large breasts hang in his face, making him get a nosebleed.
10. Time passes, and he learns that she is a warrior from another dimension/an alien from another planet/a youkai/something else
11. The "plot" slowly progresses as random girls of generic anime tropes fall in love with the bland, wimpy protagonist. Most of which end up with him accidentally falling on their breasts.
12. Invasion of generically evil warriors/aliens/whatever
13. MC suddenly gets stronger for some reason having to do with love and friendship and saves the main girl
14. "It's not like a like you or anything, b-baka!"
15. *Open end where nothing at all gets solved romantically*

The End
oORatyOo
@Lykradonai I'm not sure about #1... Would you prefer he was woken up by someone else? Like the neighbor?