Flash those six packs and biceps through your shirt- if not then just a friendly wave XD
So...

I heard you like cock.
Ha ha...
I had a guy plop down next to me on the bus the other day, introduce himself, ask for my name, and tried to make some lame conversation. And I'm SUPER shy, and don't like giving my name to strangers, so I just smiled at him, and let him say what he wanted.

If she's a flashy girl (the kind who obviously like attention), she probably wouldn't mind you coming up and saying "Hi, I'm _____, I really like your hair" or some other compliment.

Another way is to ask a question. Girls usually like to feel like they can be helpful. Like asking for directions. Or if you have something with you, you can ask her opinion about it. ("Hey, do you think my 9-year-old sister would like this stuffed animal?")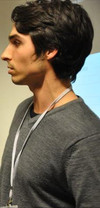 _IceAndCream_
wrote
:
("Hey, do you think my 9-year-old sister would like this stuffed animal?")
I don't know, this may be just me but, I think this might sound potentially scary lol.
Hey I heard you had an older sister named Beautiful. So you must be Gorgeous?
honestly i find it flattering when a guy takes the time to talk to me, it matters less to me what they say and more how they say it... confidence is attractive i guess?
Smile and deck her in the face...

I saw some guy do that shit and she fell in love with him..


Sorry. I lost my number. can you lend me yours?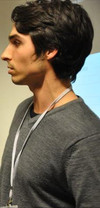 Most of the time the girls are experiencing just as much nervous excitement as you when you approach them and try to strike up a conversation.

Despite their cool, collected facade, do not let this intimidate you into becoming insecure.
hi and then compliment her on something,it makes her smile and feel comfortable to you
naw. insult her first, tease her.
make her feel like u think she's just another bro.

THEN:
compliment her and show her affection: even if the girl hates you, there is a huge chance she will think ur a gentleman in the end and have matured up enough for a relationship.

honestly if she's hot, then it's very probable she'd have the attention of a lot of men but if u were to get on her nerves SLIGHTLY, and then show her ur attention, then she would notice you, and not them.
Compliment her on something you two might have in common, like if shes wearing Nikes, tell her you like them then you can go on and on about Nike.