It's not a feeling you can really define.



It's thinking about that person all day, and they thinking about you.

It's having the good times, and the bad.

It's being comfortable talking about anything, and being comfortable talking about nothing.

It's wanting to hold that person in your arms... and wanting to never let go.

yes, how??? can it actually be expressed through words?....
Everything you do is dumb and doesn't make much sense.

Once the hormones die out, you begin to realize how stupid you're being.
No idea. Should I envy the people who have?
kind of a good feeling in my opinion...When I was in love, I used to be happy for no apparent reason, just hanging out with my gf, taking life so smoothly...idk it was just nice..I was also blinded and didn't care about tons of small problems and all I wanted is for us to go well...
Its all a giant
MESS
.... Sometimes my emotions are confused but I guess being in love is ok... :3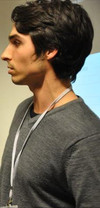 What does it feel like to be in love?

Life feels like a song.

It makes your heart well up high and pour forth emotions you never knew you were capable of.

You feel like you're opening up your chest and baring your heart out, offering it for safe keeping. Hoping whoever you give it to takes care of it.

The song keeps on playing, and you can't get it out of your head. It's both inspiring and maddening.

Once the song ends, you'll wish music never existed...and yet, you come back.
kufirst
~ ♥ forgetting about the past and thinking only of the future ♥ ~

depends on whether or not the person you love loves you back or not... T___T
Hyperion-XIC
To the OP here is my advice. Get an f****** woman and find out. I mean you sound so sad a pathetic in the OP but I'm willing to bet your not. So get off your ass, get social and find a woman. Also if you somehow get to the point of having a first date go to the favorite first date topic and get some tips.
When it comes to love for family, the Love = Hate is true, otherwise... Not really. But what do I know?
Love is great... until you realize how much love can put a dent in your wallet. HOW MANY DAMN SHOES DO YOU NEED!
Well, considering I'm only a sophomore in High school, I don't think I can say I have ever truly been in love. Yeah, sure, I've had a couple boyfriends, who I've had very strong feelings for, I don't know if I can call it love, if I can't even stand the sight of my ex anymore. xD