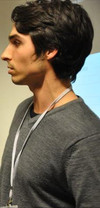 Denmi-Sama
wrote
:
It's a shame that you have to do that though. I have trust issues also and I'm afraid of getting hurt. But I wouldn't go as far as suppressing all of my feelings until I'm someone completely different.
And there's a difference between being in love and being inspired to become a better person by taking control of your future/having someone support you AND having someone make you change your future in order to remain together/happy.
Nah, not really a shame. I kind of like the way I am now. Being a villain has its perks.
It turns you into a totally different person, but that's just my viewpoint though. My boyfriend and I were always unaware of what people said about us, because we liked eachother. Before he dumped me, we were always so mushy together, I think. But he took me back, and now, I feel like we're an old married couple. I'm bored with the relationship....I don't think love exists. Just lust.
I just recently had the worst love I ever had ==''
I am the kind of girl who likes to keep my love secret.
Too scarred of rejection..

And whenever I'm in love, I only write how I feel in a piece of paper and put in a drawer in my room.
But yeah, I always end up wishing I never loved...

It cant be helped tho, I'm only human..
I only know how people fall in love from what I have read in books and watched from movies.
I'm pretty sure I haven't been in love before
but i have cried because of my laptop before does that count?
Winterfells
wrote
:
xhuizini
wrote
:
I'm pretty sure I haven't been in love before
but i have cried because of my laptop before does that count?
Not unless you were in love with your laptop. ;)
i wouldn't call it love because I can still live without it, I think?
Reject it. nobody will take my virginity.
*is here because she's a curious 14 year old* xD
and not a single fuck was given that day.
its kinda hard to describe. feels like you don't wanna part with that someone and could not last a day without seeing him. further, everything he does makes me happy :p
There's this weird feeling in your stomach the whole day, you can't stop thinking about that person, you obsess over them, when you see them you feel like jumping in a hole and grabbing them and kissing the shit out of them at the same time, you become absentminded at work, you burst into random laughter when thinking about them, you almost drop your phone when you get a text from them, you are in a bloody good mood constantly and you brighten everyone's day and/or make them want to slap you silly by giving them shit eating grins for no apparent reason.
It's a feeling you want to have forever. That person is on your mind all the time, your heart beats like you just ran the marathon. Love makes you beautiful, radiant. It's the best feeling ever. Words can't describe it.
not sure if love or just lust
LMAO. Hell, I wouldn't know.