RossoCorsa
wrote:
YagamiLight
wrote:
Tuner (performance and parts that make a difference, looks good) this one in particular is a JDM DC2 otherwise known as Integra generation 3 to the people who don't know
Ricer (horrible) this one in particular would be a EG6... atleast thats what i think it is judging by the tail lights assuming those havn't been swapped out as well.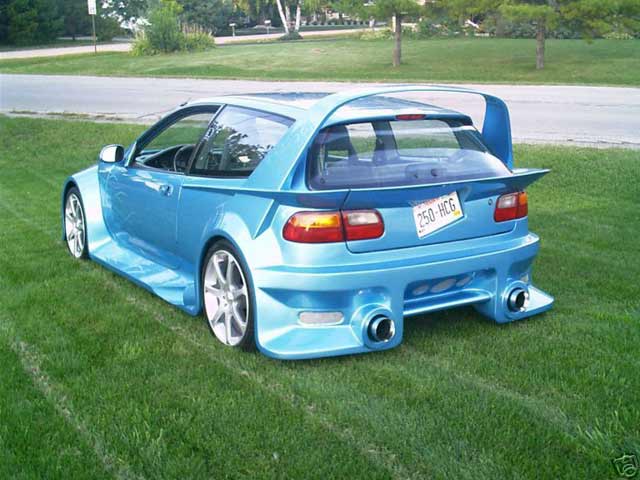 Know the difference or the human race shall fail.
edit: whaaah HAHAHA there was actually a full car forum here Oo... a lot changed in 2 years since my last login
Even that DC2 can be riced. It's called an LS with a DC2 front end exterior swap with kragen/autozone race stickers on the sides.
oh wait, the dc2 you posted... the url link is: "theatlbodykitstore.com/catalog/whateverwhatever/acura type r dragster japanese conversion".
Also as far as intakes go, there's a large difference between the CARB-legal ones and the off-road knockoffs. obviously i won't get into that because i've stated it in older posts.
also, the EG civic you posted is indeed an EG. the rear hatch's bubbleback tailgate-drop design was changed out for a better layout as of 1996.
That car has also been put on sale on ebay many times for around $3900.
It was a car built solely as an anti-ricer joke car, but since much of it is actual metal bodykit, no one would ever want the car even if it's a novelty item. anyone can buy a $15 joke item like a fake towhook or something, but no one would pay $3000 for a gag unless they've got a lot of time and cash to waste.
huh what? lol that is a JDM front end
ok heres a breakdown for you
2 door coupe
RS,LS,GS
chassis code: DC4
2 door coupe
GSR, TYPE-R
chassis code: DC2
the only cars that have that front end out of factory are in japan, here in US or Europe that would be called a JDM front end conversion.
I drive a 2 door gsr so my chassis code is still dc2
that front is jdm front
Meaning if that was a LS it would be called a LS w/ a jdm front conversion, NOT DC2 conversion lololol
a real tuner or car enthusiast wouldn't consider that rice regardless of stickers, unless its just like going overboard with stickers,