Only after you get married, i think..................
We'd like to think so... But too often it just doesn't happen
1qwf
wrote:
Only after you get married, i think..................
sorry, but not true. at least not in my world. I'm more confused than before...LOL
It's possible but highly unlikely
Dusterbayala
wrote:
well i can't say for every girl, but at least for me, showing my emotions other than anger... not ok.
Crying in public - oh dear god no!
same, i was brought up not to show my emotions and to be boyish i quess mostly due to who i hung with. And family. i thnk its possible if u try hard to understand them, hell i barely understand my own gender but i undersand guys.
Everybody is different you can't classify a whole gender on some people. If you want to understand someone of the opposite sex, talk to them and get to know them. It's really quite easy to pick up on what women you know are thinking if you pay attention.
Picturesque
We shouldn't be stereotypical and just assume all girls or all boys are this and that. Just keep an open mind about anyone you meet. Frankly, emotions are one of the main things that make us who we are and aren't "bad." People who don't admit that they have feelings are the ones who suffer in the end.
I personally don't believe either gender is that different. I don't find women the impossibly complicated emotional beings they are sometimes made out to be. Both genders feel sadness, anger, jealousy, happiness, and love. Often it can be displayed in unique ways due to society, upbringing, and biology. But we're not that different in the end. Besides, I think people should be judged and analyzed as individuals rather than by their gender.
Girls have periods.
Guys don't.

End of story.

Proly because opposite gender compliment each other with their own understandings?
VanillePink
Of course ppl are all different...
BUT~!
Still men and women are 2 different species, we think, act and react differently.
It just takes time and experience to be able to live happily together : ]
We can't even understand another person totally, Imagine a whole different gender.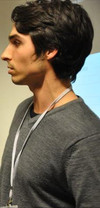 Trying to understand a woman would drive you crazy.