Steins;Gate is an anime adaptation of a visual novel game by 5pb. and Nitroplus. It follows a self-proclaimed mad scientist named Rintarō Okabe who, along with his friends, manage to invent a microwave that can send text messages into the past, allowing him to travel between alternate worlds.
The anime features two pieces of theme music; the opening theme is "Hacking to the Gate" by Kanako Itō while the ending theme is "The Twelve Time-Governing Covenants" (刻司ル十二ノ盟約 Toki Tsukasadoru Jūni no Meiyaku) by Yui Sakakibara. The ending theme for episode 23 is "The Skyclad Observer" (スカイクラッドの観測者 Sukaikuraddo no Kansokusha) by Kanako Itō, which is the opening theme to the Xbox 360 version of the visual novel.
Watch Steins;Gate online at Funimation.com
Voiced by: Mamoru Miyano (Japanese), J. Michael Tatum (English)
The player assumes the role of Rintarō Okabe, the protagonist of Steins;Gate. Rintarō is an eccentric individual, a self-proclaimed mad scientist and often refers to himself under the alias of Kyōma Hōōin (鳳凰院 凶真 Hōōin Kyōma), which is also the name he uses to introduce himself to other people. Mayuri and Daru refer to him by the nickname Okarin (オカリン), a portmanteau of his surname and given name. He is the founder of what he calls the "Future Gadget Laboratory" (未来ガジェット研究所 Mirai Gajetto Kenkyūjo) in Akihabara where he spends most of his time. Rintarō gives off the appearance of being delusional and paranoid, frequently referring to the "organization" that is after him, talking to himself on his phone, and engaging in fits of maniacal laughter. Most of the time he takes on a fairly arrogant personality. He is usually seen wearing a lab coat. As he experiments with time travel, he learns that he is the only one who possesses the ability to determine changes between different timelines, which he dubs "Reading Steiner". The character is 18 years old and a first year student at Tokyo Denki University.
Voiced by: Asami Imai (Japanese), Trina Nishimura (English)
Kurisu is the main female protagonist of the game. She is a neuroscience researcher at an American university, and can speak and read English well. Having had her research published in the academic journal Sciency at the young age of 18, Kurisu is extremely talented. She skipped a grade in the American school system. She does not get along with her father and has not spoken to him in many years. Rintarō often just calls her assistant (助手 joshu) or one of a number of nicknames he comes up with, such as Christina (クリスティーナ), none of which she likes. She is considered a tsundere character. Her character is 18 years old.
Voiced by: Kana Hanazawa (Japanese), Jackie Ross (English)
Mayuri is a long time childhood friend of Rintarō and is a bit of an airhead. Mayuri enjoys creating cosplay costumes and has a part-time job at a maid cafe called "Mayqueen Nyannyan". She sometimes calls herself Mayushii (まゆしぃ), a portmanteau of her given name and surname, which is also what Daru calls her. She has a distinctive sing-song way of speaking, and she typically sings tutturū (トゥットゥルー) when she arrives or introduces herself. Her character is 16 and she is a second year at a private university preparatory school.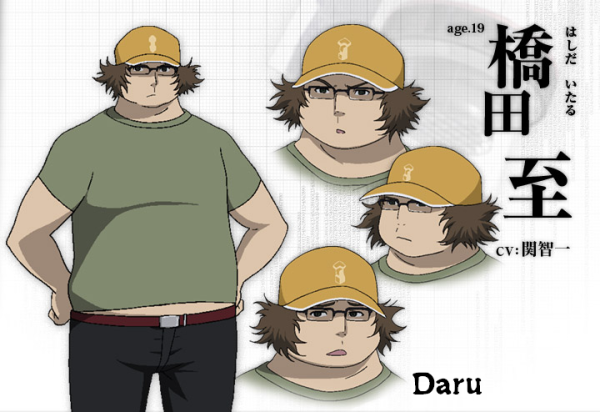 Voiced by: Tomokazu Seki (Japanese), Tyson Rinehart (English)
Hashida is an experienced hacker who has known Rintarō since high school. He is very skilled at computer programming and with old and new computer hardware. He is also well-versed in things pertaining to otaku culture. Rintarō and Mayuri refer to him by the nickname "Daru", which is based on his given name Itaru. Rintarō sometimes also calls him Super Haker (スーパーハカー Sūpā Hakā), mispronouncing the word hacker (ハッカー hakkā) to his chagrin. He is a big fan of Feris and he frequently says things which could be taken as sexual harassment. Daru is often annoyed with Rintarō's frequent delusional behavior. His character is 19 years old and, like Okabe, is a first year student at Tokyo Denki University. He appears in Robotics;Notes as DaSH.
Voiced by: Saori Gotō (Japanese), Jessica Cavanagh (English)
Moeka is a tall girl who Rintarō bumps into in Akihabara and is on a search for the IBN 5100 personal computer. Moeka is extremely protective of her mobile phone and becomes agitated if someone tries to take it from her hands. She is very shy and prefers to talk to someone by sending them a text message instead of speaking, even if they are right in front of her. Okabe calls her Shining Finger (閃光の指圧師(シャイニング・フィンガー) Shainingu Fingā). Her character is 20 years old.
Voiced by: Yū Kobayashi (Japanese), Lindsay Seidel (English)
Ruka is a male to female transgender girl who looks, acts and has every single demeanor like a girl and wears normal girls clothing within and outside his father's temple and at school. He is a close friend and classmate of Mayuri and is often asked by her to try on her cosplay costumes, though as he is quite shy and generally refuses. Okabe calls him Rukako (ルカ子), and thinks of him as a pupil. His character is 17 years old.
Voiced by: Haruko Momoi (Japanese), Jad Saxton (English)
Feris works at the maid cafe "Mayqueen Nyannyan", the same maid cafe that Mayuri works at, and is the most popular waitress there. Her real name is Rumiho Akiha, whose family owns Akihabara, her being the one suggested it become the mecca of moe and anime. She tends to add meow (ニャン nyan) to her sentences. Her character is 17 years old.
Voiced by: Yukari Tamura (Japanese), Cherami Leigh (English)
Suzuha works part-time for the landlord of Rintarō's apartment and is on a search for her father in Akihabara. She enjoys riding her bicycle and appears to be at odds with Kurisu for some reason. Her character is 18 years old. She is the main protagonist of the side-story manga, Steins;Gate: Bōkan no Rebellion.
Voiced by: Masaki Terasoma (Japanese), Christopher Sabat (English)
He is Rintarō's landlord, who owns a TV repair store beneath his apartment, living with his daughter, Nae. Rintarō often gives him the nickname "Mr Braun" for his passion to Braun tube TV. He is the protagonist of the side-story manga, Steins;Gate: Onshuu no Braunian Motion.
Voiced by: Ayano Yamamoto (Japanese), Brina Palencia (English)
Yūgo's daughter who lives with him in the TV repair store and gets along well with Mayuri. She later appears in Robotics;Notes as a member of JAXA.