THE OFFICIAL MATSUJUN FANCLUB
<3
A place where die hard fans of the multi-talented Matsumoto Jun can
gather
,
chat
,
drool
over
pictures
,
discuss his latest works
,
find out what he had for breakfast
, and generally
idolize
the
god
that is
Jun Matsumoto
<3
(If you, as a fan, would like to help out, then please invite all your Jun bait friends over and share the love!!) Join Today!
Name (kanji):
松本潤
Name (romaji):
Matsumoto Jun
Nicknames:
MatsuJun, Jun-kun, King (by all of Arashi), Do-S, Jun-sama, Jun-chan (by his mom), Devil Jun (in his JR days)
Height:
173cm (between 5'6 and 5'7)
Weight:
58kg (approx 128)
Birthday:
August 30, 1983
Birthplace:
Tokyo, Japan
Siblings:
One older sister
Horoscope sign:
Virgo
Blood type:
A
Interests:
Music, DVDs, photography, reading, surfing, Harry Potter
Preferred Sport:
Baseball
Favorite Food:
Noodles, dry plums, mango
Favorite Colors:
White, black and blue
Pet he would love to have:
dog
Matsumoto Jun
(松本潤), is a Japanese actor, host and singer from Johnny's Entertainment (JE). He is one of the few elites in Johnny's to have joined without an audition. He joined JE at age 13 and 3 years later he debuted with 4 other johnny's as Arashi. MatsuJun is the youngest amongst the 5 members of the J-Pop group
Arashi
(嵐). He is easily distinguished by his stylish clothes and his personality.
He's mostly known for his work in dramas and films. You've probably seen him in Hana Yori Dango, Kimi wa Petto or Gokusen, which are all very popular. He is currently the host of a japanese radio show, "Jun Style".
There are many "Jun-bait fans".
Jun-bait
= lured into Arashi by Jun. Most people who love his acting have come to discover that he is in a group called Arashi. So, naturally they fall in love with Arashi as well.
*Most Recent drama:
Myu no Anyo, Papa ni Ageru
, Jun's drama special. Based on a true story about a young man (played by Matsumoto) who learns he has a rare illness known as CIDP, which affects the nervous system. He begins to lose the functioning of his limbs, but he is determined to fight the illness with the support of his wife (Karina) and his 2-year-old daughter, Myu-chan.
Airs Aug 30, 2008
, yeah thats right on his birthday! Credit:Tokyograph
HIMITSU NO ARASHI
..Jun's date with Ooshima-san. Credits: sableheart & arronyan for sending it to me.
~AG988
Oh Yum!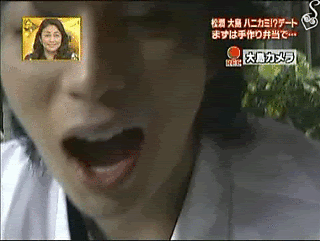 ________________________________________________
MatsuJun received the "Best Beauty CM Award" for his Fasio Mascaliner CM
________________________________________________
Please visit stated sites below.

It's the affiliated groups!

:)
(

ouh and do join to show support for anything


'

Matsumoto Jun

'....!)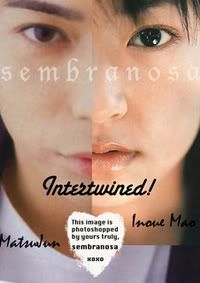 http://www.crunchyroll.com/group/MaoTsuJun



Hott with Style Japanese Men


Its hot japanese guys with style. You guys should check it out! (Jun is one of hot guys. lol) ^_^
http://www.crunchyroll.com/group/Hott_with_Style_Japanese_Men
------------------------------------------------------------------------------------------------