Monsters, superheroes, and more at Tokyo's famed toy and model show.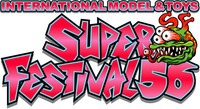 Wow, I am I dizzy, jet-lagged, and crazy. But I've also never felt better nor more monstrous...
I barely had time to step off my 10 hour flight to Tokyo and get a few winks in before I was whooshed away to the toy and figure show known as Super Festival 56 to film a new episode of my web show OTAKU-VERSE ZERO.
This event, held three times a year, is put on by the FEWTURE / ART STORM figure company. And on April 29th, rabid collectors from all over Japan rushed inside the convention hall one again to scoop up vintage toys, along with special limited edition items, and to get a gander at an array of special guests (like this year's man of honor, Hiroshi Fujioka of Kamen Rider and Segata Sanshiro fame) .
Maybe the funniest thing about Super Festival is the location. It is held in a children's science museum located next to the famed Budokan arena. On the day of Super Festival 56, a judo tournament was being held at Budokan, which meant that burly tough guys were walking shoulder to shoulder with overgrown man-boys clutching bags of toys.
Speaking of which...my buddy Matt Alt showed up as always (they can't seem to keep him away) and here he is marveling at the Super Festival floor map: a fearsome Octogon-like construction that usually winds up defeating all who dare venture insisde.
This is like THE typical Super Festival dealer's table: imagine an entire subcontinent of misfit toys for sale inhabited by Ultramen & monsters, Tiger Mask balloons, and Ninja Turtles topped off by that timeless symbol of tasteful home furnishing; a ratty Voltron bed sheet!
Godzilla is a major part of the Super Festival experience. And even though the Big G is a universal symbol of mass destruction, the guys at Creative Design Hazawagumi maganed to put together this inspirational post-earthquake poster featuring images of their figures.
Unlike many other Tokyo hobby shows, items from current anime and manga are kept to minimum. The focus tends to be on monsters, superheroes, and their admirers. In addition to the big franchises like Godzilla, Ultraman, and co. you'll find a healthy assortment of "indie" creations lurking the hallways at Super Festival, including these kaiju suits created by artist picopico.
If you can't wear a full-on kaiju suit, then there's a fair amount of apparel to bring home, including crazy monster T-shirts and the occasional bit of sexy underwear (like these, featuring Kaiju Booska).
There was just waaaaay too much awesome stuff at Super Festival 56 to even begin to cover it all, but here are some highlights, beginning with the custom-colored Kewpie mayonnaise kaiju from indie figure maker Ilenena...
…and here's a show exclusive: an original limited edition glow-in-the-dark vinyl figure known as the Larvagon created in collaboration with Ilenena and wild American Velocitron.
As with other otaku events like Comic Market, Super Festival is a copyright free zone which explains this unlicensed Death Kappa figure for sale inspired by the recent film of the same name…
Although not a monster, he certainly was a giant of Japanese film. Feast your eyes on the Toshiro Mifune action figure from FEWTURE/ART STORM!
These original Lego re-creations of classic anime mecha from Gundam, Macross, and Xabungle, were not for sale, but still had plenty of admirers. Dear Lego: instead of milking more out of Star Wars or Harry Potter, make THIS your next video game!
I mentioned earlier that copyrights are out the window at Super Festival, which means there's always one joker determined to sell terrible bootleg knock-offs. This dealer was hawking Transformable TOMAS tank engines (not to be confused with some other train thing that kids like).
Bring me the head of Ultraman Jack! I started having serious "I'm not worthy" moments when I saw this display of original Return of Ultraman costumes and props including a Monster Attack Team (MAT) uniform from the personal collection of Yuji Nishimura. He has all the best toys!
Of course, this was the cue for monsters to begin attacking Matt. And the villanous Female Space Criminal Bijyorin manages to get an O-face out of him. Please tune into an upcoming episode of OTAKU-VERSE ZERO to see the thrilling conclusion!
----------
Patrick Macias is the cheif editor of Crunchyroll News. His blog can be found on-line at patrickmacias.blogs.com.