New monster themed bar run by filmmaker Takao Nakano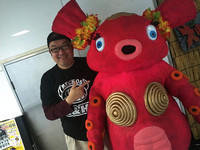 Imagine a lush tropical paradise filled with fruity cocktails and populated by all manner of monsters both great and small. That's the grand utopian vision of the Dai Kaiju Salon ("Giant Monster Salon"), a new theme bar run and operated by famed filmmaker Takao Nakano.
The screenwriter and director of such landmark works of adult cinema such as Exorcister, Sumo Vixens, Sexual Parasite, and the up-coming Big Tits Zombie 3D, Nakano-san (pictured below) opened the Dai Kaiju Salon in March of this year. It can be found in Tokyo's Nakano neighborhood, just a short walk away from the famed Nakano Broadway otaku shopping mall.
Tucked in-between a Hanshin Tigers baseball themed bar and a teddy bear club knitting club populated by little old ladies, the Dai Kaiju Salon is easy to find on account of the eye-popping pink monster suit propped outside. This is Mucho, the monsterriffic mascot of the salon who can often be seen wandering the area handing out fliers. Mucho was designed by artist picopico who specializes in the creation of kawaii (cute) kaiju suits and original monster toys.
Fake tropical flowers, bamboo walls, and volcanic decorations inside give the salon a classic tiki bar vibe. A staunch fan of the genre himself, Nakano says that many of his favorite kaiju films from the '60s, such as Godzilla Vs. the Sea Monster and Gappa, unfold in such environments and help the customers to feel relaxed and away from the mad rushing crowds outside.
The menu offer an array of food and drink including kai-juice, kaiju ice cream sundaes, kaiju gummy candy, elaborate kaiju cocktails, and even kaiju ramen. Every item comes with some kind of decoration, be it chocolate toppings shaped like Mucho, or rubber monster finger puppets affixed to cocktail stirrers. While adults are likely to reach for the hard stuff, the Dai Kaiju Salon also welcomes child customers. They are encouraged to create their own original kaiju via drawings and clay sculptures.
Vinyl monster figures line the shelves. Super hero TV theme songs play on the stereo. Autographs from dignitaries such as Godzilla suit actor Haruo Nakajima are hung from the wall with pride. For anyone who grew up in awe of the likes of Ultraman, Gamera, and of course, the Big G himself, the Dai Kaiju Salon is likely to be the next best thing short of booking a vacation on Monster Island.
Stay tuned to the Otaku-Verse Zero webshow for a full report soon!
Dai Kaiju Salon map and info (Japanese)
Related: Kamen Rider the Diner appears!
----------
Patrick Macias is the chief editor of Crunchyroll News. His blog can be found on-line at patrickmacias.blogs.com.