Inside a 40th anniversary Japanese superhero spectacular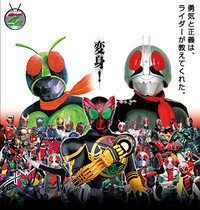 Takeshi Hongo is Kamen Rider: a modified human. He was altered by Shocker, an evil secret society with aspirations for world domination. Kamen Rider fights against Shocker for the sake of human freedom!
It was 40 years ago today… The Japanese superhero known as Kamen Rider first burst onto TV airwaves in 1971. Four decades later, the Kamen Rider series remains as popular as ever and is enjoyed by kids, adults, and otaku alike who tune in each week for the new adventures of Kamen Rider OOO.
The landmark 40th anniversary of Kamen Rider has been celebrated in a number of ways. CrunchyNews has so far reported on such landmark events as the opening of the Kamen Rider Diner, the appearance of the Kamen Rider Girls, and the highly collectable Kamen Rider Happy Meal Toys. But the cap stone of the celebration to date has been the Kamen Rider Special Exhibition 2011, a temporary museum space set up at the Mitsukoshi department store in Tokyo's Nihombashi ward.
The exhibit opened on 4/27 and I just managed to plunk down 600 yen for an admission ticket mere hours before the final hours before closing on 5/9. Here's what went down.
Unfortunately, pictures were not allowed in the first room of the Kamen Rider Special Exhibition 2011, but it was there that my blood was racing in the presence of true greatness. A glass case was set up with mementoes belonging to the late Shotaro Ishinomori, the manga artist who was the prime mover behind the creation of Kamen Rider all those years ago. Here was Ishinomori's watercolor paint set, a feather duster used to keep his pages of art neat and clean, and finally, the henshin pimp's iconic aviator-style glasses!
Nearby was a long display case that ran the length of the entire wall. It contained the original art for very first Kamen Rider manga ever drawn by Ishinomori laid out page by page in sequential order. Here was the historic origin of the epochal character – from Takeshi Hongo's transformation into a cyborg to his first battle with the forces of Shocker – complete with notes in the margins, blotches of Whiteout, and pieces of yellowing tape. Age could not diminish the beautiful amount of detail that Ishinomori has put into this work. And seeing as how it was first printed on cheap paper common to boy's manga magazines, seeing the original art really was like seeing it for the first time.
Above the manga was a selection of concept art and character designs also drawn by Ishinomori for both the original Kamen Rider TV series and the sequels that followed including Kamen Rider V3, Kamen Rider Amazon, Kamen Rider X, Kamen Rider Stronger, and Kamen Rider Black.
A flurry of camera flashes going off suddenly alerted me that it was ok to take pictures in the next portion of the exhibition room, my suspicions confirmed by the site of a fully adult male (not me, I swear) striking his best "henshin pose" in front of 1/1 scale recreations of the heroes who make up the Kamen Rider universe.
Up next came a room of rare original Kamen Rider merchandise. Pictures here were verboten again, but I managed to get a couple of sneaky shots without getting thrown out.
The final part of the show came in the form of a exhibition called "My Rider", containing original works of art created by famous manga-ka and artists to commemorate the 40th anniversary.
Then it was a classic "exit through the gift store" strategy as fans lined up for their last chance to sop up limited edition goods and other items ranging from Kamen Rider T-shirts to lithographs of Ishinomori's original concept art, which started this whole thing in the first place.
All in all, a great show with an incredible amount of creativity on display. Let's do it again in another 40 years!
Related:
Kamen Rider the Diner appears!
Invasion of the Kamen Rider Girls
----------
Patrick Macias is the chief editor of Crunchyroll News. His blog can be found on-line at patrickmacias.blogs.com.
GALLERY