New anime-related goods inspired by Gundam, Macross, Hayao Miyazaki, and more!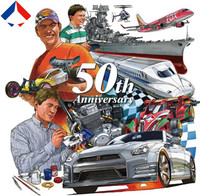 What a weekend! The 50th Shizuoka Hobby Show was just held in Japan from 5/12 to 5/15. This marked an incredible five decades of celebrating plastic model kits, radio controlled cars, airsoft guns, model railroads, and all manner of fun time killers in-between. An area of Japan long affiliated with artisans and crafts, scenic Shizuoka City prides itself as being "the world capital of models". And seeing as how Bandai currently makes "The Shizz" the home of their Gundam plastic model kit factory (AKA the Bandai Hobby Center), it's a claim they can back up. The official event poster below should give you a basic idea of what's on the agenda…
To make the journey to Shizuoka Hobby Show, I piled into a car with a pair of editors from Weekly ASCII magazine and made the drive 2 ½ hours outside of Tokyo. The sheer amount of new products and displays found there have left me with hundreds of pictures to rummage through. But seeing as how this is CrunchyNews, I figured it would be best to post the anime-manga-games related stuff first. So here we go:
Since the Hobby Show is held on Bandai's home turf, they really pull out all the stops at their display booth, beginning with this 1/1 scale replica of the head of a Zaku mobile suit from Gundam. Not for sale, sadly!
The Zaku was getting a lot of play at the Hobby show this year, maybe even moreso than the classic Earth Federation Gundam mobile suits...
Who dreams up this crazy stuff? Meet Katsumi Kawaguchi, leader of Bandai's strategy team for the hobby products division. Originally a model builder himself who went pro, Kawaguchi is a living god among Gundam fans.
You can see Kawaguchi himself below in the lower right hand corner, holding court in front of Bandai's booth hawking their 1/144 scale Real Grade Gundam kits. I'm willing to bet a tube of glue and some tweezers that the guy in hat is saying, "I'm not worthy!"
Ok, it wasn't all Gundam and Gunpla at the Bandai booth. And just to prove it, here's a look at some awesome and articulated Kamen Rider plastic model kits due in August from Bandai's MGF series priced at 3990 yen a pop.
As far as other robot anime franchises go, there was also much Macross Frontier goodness to celebrate, including these 1/100 scale YF-29 and YF-25F kits that sell for 1260 yen.
And where would we be without ita-fighters emblazoned with the likenesses of Ranka Lee and Sheryl Nome?
But Bandai wasn't the only company at the Hobby Show with a piec165e of the Macross pie...the Yamato company had a few Super Dimensional goods of their own, including this killer transformable SDF-1 kit. Insanely detailed, and scaled at 1/3000, it will go on sale shortly for 15000 yen (steak dinner and gold watch not included).
Not to be outdone, the Hasegawa company struck back with a line of classic Macross Valks of their own.
I think my favorite Macross mech of all time may just be the Super Strike Valkyrie from the original series, so please indulge me while I post a pic of it up close and personal.
If that's not old-school enough, you may now contemplate the wages of a life spent watching Japanese cartoons with these 30th annivesary Fangs of the Sun Dougram reissed by Douyusha.
Meanwhile, over at Fine Molds, the big event was the unveiling of the two kits in their new Leiji Matsumoto SF Mechanical Universe series. The ad copy claims these are original designs, but they are clearly based on two ships designed by manga-master Matsumoto for the original Yamato TV series. Methinks a complicated rights situation may be afoot!
Fine Molds is also throwing down the gauntlet to fans of Hayao Miyazaki's anime films with this 1/20 scale kit of the famed robot soldier from Castle in the Sky: Laputa which goes on sale in June for 3990 yen.
Or, if you prefer, you can invest in a pair of 1/72 airplanes from Miyazaki's Porco Rosso including the Curtis R3C-0 (right) and the Savoia S.21F (left) for 5460 yen.
Compare and contrast with these magnicifent flying machines decorated in cute characters from the [email protected] video game series!
Well, we gotta end the first part of this report somehow, so it might as well be with a taste of things to come: expect guns, samurai swords, military models, and head busting craziness in Part Two of our Shizuoka Hobby Show coverage!
Related: Shizuoka Hobby Show Official Site
----------
Patrick Macias is the chief editor of Crunchyroll News. His blog can be found on-line at patrickmacias.blogs.com.
GALLERY