Incredible Vocaloid vehicles and cosplayers line up at Tokyo "itasha" event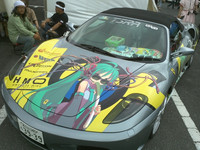 When last we left off in the stirring emotional saga of ItaG Fest 2011, over 1,000 pimped-out otaku cars, bicycles, and motorcycles had taken over an entire parking lot in Tokyo's Odaiba district. In my previous reports on this event (Part One, Part Two), which took place in late May, I've been dropping hints about some serious Vocaloid related activity. And now is the time to conclude this series with pictures and ribald tales of the very best of the Hatsune Miku vehicles and cosplay seen at the show.
Behold! A killer Vocaloid sports car decorated in the style of the best-selling Hatsune Miku Orchestra album. You can see the proud owners of this one of a kind vehicle in the upper right corner. The seem to be giving off a general air of, "don't f*$k with it" to all who pass by.
Here's a side shot the same vehicle. Update: Someone in the office just saw me posting this and said, "I love it how these guys spend $300,000 on a car and then paint that on it!" So do I!
This "Racing Miku" van looks pretty cool as is, but a closer look reveals just how dangerous it really is. For starters, consider the dashboard filled with familiar looking plushies and the ground, which is littered with awards and glittering trophies.
If that dude in blue wasn't standing in the way, you could clearly see that the van doubles as a big booty shaking portable sound system. The DJ out front is live mixing…you guessed it…Hatsune Miku tunes! And yes, there was a crowd of people dancing before too long…
Here's yet another van, this time a "Team Vocaloid Miku Append" model with a serious gimmick in the back...
A fully functional Project Diva rhythm game! Otaku would soon be lining up to mash those buttons and carefully keep their eyes on those PC monitors (only to be distracted by the plushies beneath).
But nothing could prepare me for the incredibly strange sight of this Hatsune Miiku yankii motorbike, suitable for a Japanese juvenile delinquent or the stars of the movie "Kamikaze Girls". Note incredible leek-color detail on the oversized thunder seat and ah-ooga horns!
Indeed, the bikes 'n motorcycles section at ItaG Fest may have proved to offer the most mind-altering fare at the entire show. Here's a wild bicycle built for two, also painted to resemble Miku's famed leek veggies! Bonus points for the cosplayer in the upper right!
I don't think the bike above has any affiliation with the Vocaloid franchise, but a smiling Miku cosplayer snuck into the frame, and so it winds up here!
Anyway, I hope you've enjoyed our three-part survey of the car-nage at ItaG Fest 2011. Stay tuned to the Otaku-Verse Zero webshow for a full video report!
Related:
ItaG Fest 2011 Report! (Part One: Start Your Engines)
ItaG Fest 2011 Report! (Part Two: Cosplay Edition)
----------
Patrick Macias is the chief editor of Crunchyroll News. His blog can be found on-line at patrickmacias.blogs.com.
GALLERY