From "The Little Prince" to "Hans Brinker or The Silver Skates"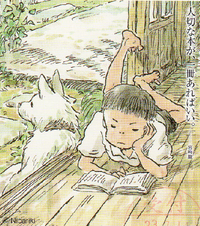 Kokurikozaka kara/From Up On Poppy Hill, the newest anime film by Studio Ghibli, will be released tomorrow, July 16, in Japan. In commemoration of the film and the Arrietty DVD/Blu-ray's release, Kochi Literary Museum has held a special Exhibition "Handwritten Testimonials by Hayao Miyazki for his 50 recommended books" since July 2.
In the exhibition, you can actually see Miyazaki's 50 handwritten manuscripts for his recommended books directly (you can't touch them, of course). I (M.Komatsu) visited the museum yesterday. Unfortunately, taking pictures was not allowed inside the exhibition. But I want to introduce Miyazaki's list and some pictures around the exhibition. I hope you enjoy.
The exhibition's flyer. Miyazaki says, "Just one precious book is enough for me".
Kochi Literary Museum
The entrance of the exhibition
A statue of Kiki's Delivery Service in the lobby

Howl's Moving Castle
You can put on the Arriety's costume and take a picture
The Studio Ghibli shop
---
Hayao Miyazaki's 50 recommended books
1. "The Little Prince" Antoine de Saint-Exupéry (1943)
2. "Il Romanzo di Cipollino" Gianni Rodari (1956)
3. "The Rose and the Ring" William Makepeace Thackeray (1854)
4. "The Little Bookroom"  Eleanor Farjeon (1955)
5. "The Three Musketeers" Alexandre Dumas (1844)
6. "The Secret Garden" Frances Eliza Hodgson Burnett (1909)
7. "The Treasure of the Nibelungs" G.Schalk (1953)
8. "Alice's Adventures in Wonderland" Lewis Carroll (1865)
9. "The Adventures of Sherlock Holmes" Arthur Ignatius Conan Doyle (1891)
10. "A Norwegian Farm" Marie Hamsun (1933)
11. "Конёк-горбунок" Пётр Па́влович Ершо́в (1834)
12. "Souvenirs entomologiques" Jean-Henri Casimir Fabre (1879-1907)
13. "Toui Mukashi no Fushigina Hanashi-Nihon Reiiki" Tsutomu Minakami (1995)
14. "Иван-дурак" Leo Tolstoy (1885)
15. "Eagle of the Ninth" Rosemary Sutcliff (1954)
16. "Winnie-the-Pooh" A. A. Milne (1926)
17. "Les Princes du Vent" Michel-Aime Baudouy (1956)
18. "When Marnie Was There" Joan G Robinson (1967)
19. "The Long Winter" Laura Ingalls Wilder (1940)
20. "The Wind in the Willows" Kenneth Grahame (1908)
21. "The Ship That Flew" Hilda Lewis (1939)
22. "Flambards" Kathleen Wendy Peyton (1967)
23. "Tom's Midnight Garden" Ann Philippa Pearce (1958)
24. "The Adventures of Tom Sawyer" Mark Twain (1876)
25. "Chumon no Ooi Ryouriten" Kenji Miyazawa (1924)
26. "Heidi" Johanna Spyri (1888)
27. "Twenty Thousand Leagues Under the Sea" Jules Verne (1870)
28. "The Borrowers" Mary Norton (1952)
29. "Devatero pohádek" Karel Čapek  (1931)
30. "Swallows and Amazons" Arthur Ransome (1930)
31. "The Flying Classroom" Erich Kästner (1933)
32. "Robinson Crusoe" Daniel Defoe (1719)
33. "Treasure Island" Robert Louis Stevenson (1883)
34. "Двена́дцать ме́сяцев" Samuil Marshak (1943)
35. "Tistou les pouces verts" Maurice Druon (1957)
36. "The man who planted the welsh onions" Kim Soun (1953)
37. "Strange Stories from a Chinese Studio" Pu Songling (1740)
38. "The Voyages of Doctor Dolittle" Hugh John Lofting (1922)
39. "Journey to the West" Wú Chéng'ēn (1500~?)
40. "Little Lord Fauntleroy" Frances Eliza Hodgson Burnett (1886)
41. "From the Mixed-Up Files of Mrs. Basil E. Frankweiler" Elaine Lobl Konigsburg (1968)
42. "Alla vi barn i Bullerbyn" Astrid Lindgren (1947)
43. "The Hobbit, or There and Back Again" J ohn Ronald Reuel Tolkien (1937)
44. "A Wizard of Earthsea" Ursula K. Le Guin (1968)
45. "The Little White Horse" Elizabeth Goudge (1946)
46. "Bylo nas pet" Karel Polacek (1969)
47. "City Neighbor: The Story of Jane Addams" Clara Ingram Judson (1951)
48. "The Radium Woman"  Eleanor Doorly (1939)
49. "The Otterbury Incident" Cecil Day-Lewis (1948)
50. "Hans Brinker or The Silver Skates" Mary Mapes Dodge (1865)  
© Nibariki